Loughborough College is proud to be a member of the Leicestershire Chamber of Commerce and believe it demonstrates our commitment to working in partnership with businesses. We strive to help grow and support the local economy by providing quality training for organisations. We want to ensure Leicestershire based organisations are equipped to meet the challenges laid out in a competitive and challenging environment. –

The Institute of Leadership & Management (ILM) is a professional body which aims to build leadership and management capability at individual, team and organisational levels. ILM provides managers in every sector and in every role with the active support they need to advance in management. As part of the City & Guilds Group, ILM represents a strategic initiative to support excellence in leadership and management and is the largest Awarding Body of its kind in Europe.
Being an ILM approved centre shows that we are specialists in delivering a range of competence based programmes, from Team Leading to a Masters equivalent.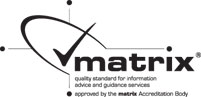 The Matrix Standard is the unique quality framework for the effective delivery of information, advice and guidance on learning and work. At the heart of the matrix Standard is continuous improvement. We take on board the Assessor's feedback, combine it with Loughborough Colleges own improvement objectives, and create a Continuous Improvement Plan that challenges what we do and how we do it.