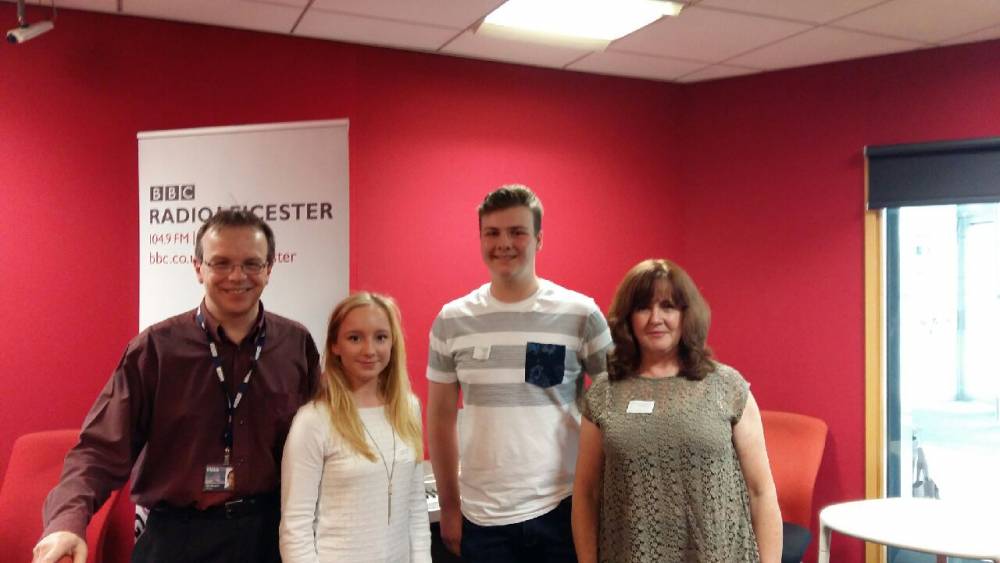 The BBC was today impressed not only to hear about Loughborough College's audition success for The Voice- but also by an outstanding live performance from Lucy Hooper.
The record-breaking singing talent show selected an amazing seven students from the College to go forward to the next round of auditions and Lucy and Jimmy Gooch, together with Performing Arts tutor Vicki Calvert-Gooch, talked to BBC Radio Leicester about taking a step closer to appearing on the UK version of the global phenomenon.
Presenter Graham Wright was then overwhelmed by Lucy's performance of the song 'Find a Way' which she wrote herself.
Twenty young singers recently auditioned at Loughborough College for the chance to compete in the new series of the show.
Public Services student Jimmy was joined by Performing Arts students Lucy, Katie Boyes and Kyara Chapman, Music students Lydia Mason and Chantelle Harvey and Events Management degree student Charlotte Yates – who previously studied Performing Arts with the College – at Saturday's next round auditions in Birmingham.
Lucy was thrilled to discover, after performing 'Like I'm Gonna Lose You' by Megan Trainor acapella that she would be given the opportunity to perform two further songs and chose her own composition 'Find a Way' as one of them.
Charlotte and Kyara joined Lucy in reaching the second stage on Saturday, also performing all three of their audition songs.
Lucy told Graham Wright, "My course at Loughborough College really has helped me so much." She went on to explain that her enthusiasm for performance came from her family's background in musical theatre. "I wouldn't say they exactly encouraged me – they know how tough the industry can be. But when they discovered how much I enjoy it they have been nothing but supportive."
Lucy wrote her first song, 'I Don't Want to Fall' for an anti-bullying campaign and explained that 'Find a Way' was about overcoming doubt and having the strength to go ahead and prove people wrong.
As the song finished Graham said: "If anyone was in any doubt, that was Loughborough College student Lucy Hooper singing live in the studio at BBC Radio Leicester – absolutely brilliant."
Jimmy Gooch explained that despite not getting a call back after singing his first song – 'Blank Space' by Taylor Swift - the audition in Birmingham on Saturday had been, "a really good experience. It was surprising to see how many people were there."
After years of playing sport Jimmy admitted he could not deny his mum's influence, as a singing teacher at Loughborough College, and that he is now finding a real passion for singing, particularly Frank Sinatra. "What a top man," said Graham, approvingly.
Up to five students from Loughborough College, including Lucy, Kyara and Charlotte, are in line to go through to the next exciting stage.
Vicki Calvert-Gooch added: "We love to give our students lots of opportunities so we let everybody who wanted to, to audition for The Voice.
"Now the students who were asked to sing all their audition songs in Birmingham have to wait until August before they will hear whether or not they have been successful.
"We are keeping our fingers crossed for them all."
Five Loughborough College students, including Lucy, Kyara and Charlotte, are in line for a potential call back.
Loughborough College Creative Arts lead Emma Ledsam said: "We are very proud of our students on their success in progressing through auditions for The Voice.
"This represents the culmination of a year of hard work and shows how far our students have come in that time.
"We have had a great year of productions. We have also hosted Britain's Got Talent auditions and now have students honing their skills and succeeding on The Voice. We wish them every success."
Lydia Hovenden, a Mentor with the Student Engagement team at Loughborough College - who coordinated the original auditions, added: "This was an opportunity to build confidence and experience the audition process as well as for students to potentially get through to the televised shows.
"Some of those who auditioned were experienced performers studying Music or Performing Arts at college whereas others had never sung in-front of anyone before - and it was fantastic to see how much talent students at the college have to offer."
The Voice has a global audience of 300 million in 180 countries. The signature spinning chairs, blind auditions to choose competitors on voice alone and celebrity coaches who have included Tom Jones, will.i.am, Kylie Minogue, Rita Ora and Boy George, have made the British show a huge hit. The new series will air on ITV in 2017.
The BBC Radio Leicester interview with Lucy, Jimmy and Vicki can be found 00.09 minutes into the show here: http://www.bbc.co.uk/programmes/p03xkczt
Pictured: (left to right) BBC Radio Leicester's Graham Wright with Loughborough College's Lucy Hooper, Jimmy Gooch and Vicki Calvert-Gooch