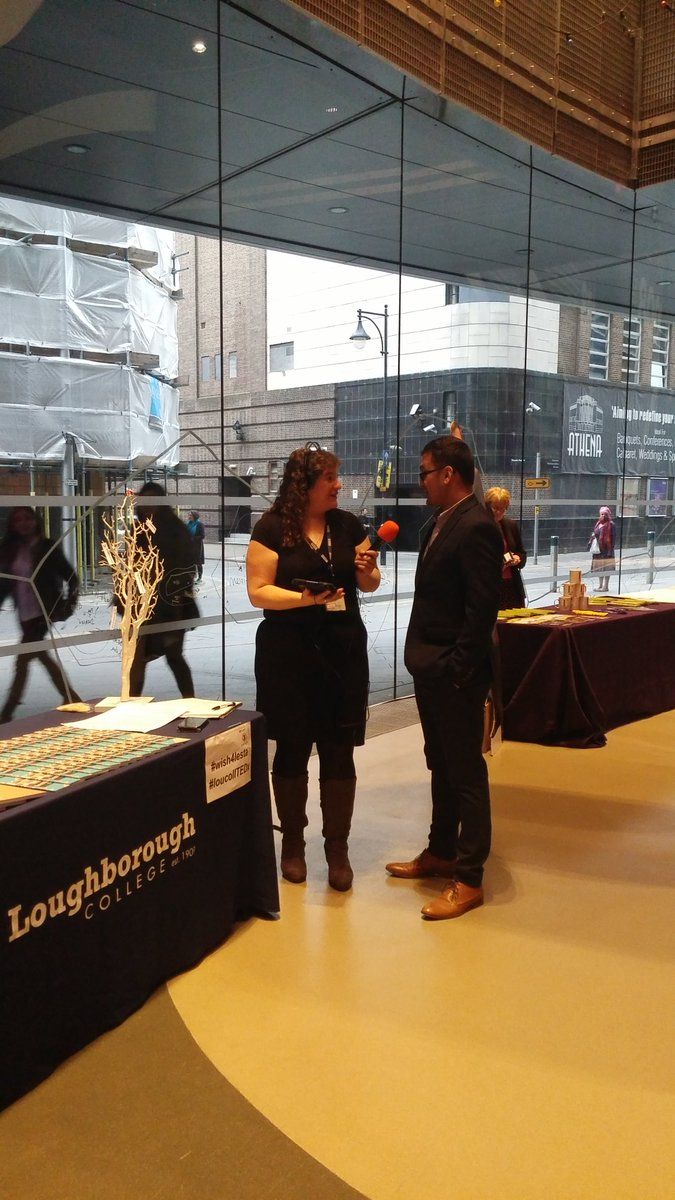 BBC Radio has been catching up with Loughborough College at TEDx 2016.
The event was inspired by the global phenomenon started 30 years ago in California which offers leading thinkers who have included Stephen Hawking, Bill Gates and Richard Branson the opportunity to speak about 'Ideas Worth Spreading' at conferences across the world, under the banner TED – Technology, Entertainment and Design.
Loughborough College joined leading thinkers at Curve in Leicester and talked live on air to Liz Saul from the TEDx-supported event.
Iqbal Ullah, who manages the Business Management Foundation Degree course at the College, explained why he and undergraduate students studying Business, Hospitality and Event Management had got involved: "The speakers lined up provide real inspiration for our students looking at enterprise ideas and setting up their own business.
"For our Hospitality and Events students it is also an opportunity to see how a complex event like this is put together.
"An event like TEDx is so important for young people. Certainly we aim to give our Higher Education students the widest possible exposure to real-life scenarios.
"There are so many inspirational people here who can really drive our students forward with their own aspirations and career choices."
Speakers at TEDx Leicester 2016 included Turi King, who led the genetic analysis in the King Richard III case, who was recently awarded an Honorary Fellowship of the British Science Association alongside Brian Cox, Alice Roberts and David Attenborough and former England U21 rugby player Matt Hampson who has set up a Foundation to offer support and assistance for others who have suffered catastrophic injuries through sport.
Hear BBC Radio's interview with Loughborough College from TEDx 2:53.30 into the show here: http://www.bbc.co.uk/programmes/p049tkj9#play
Pictured: Loughborough College's Iqbal Ullah speaks to BBC Radio live from TEDx Leicester 2016