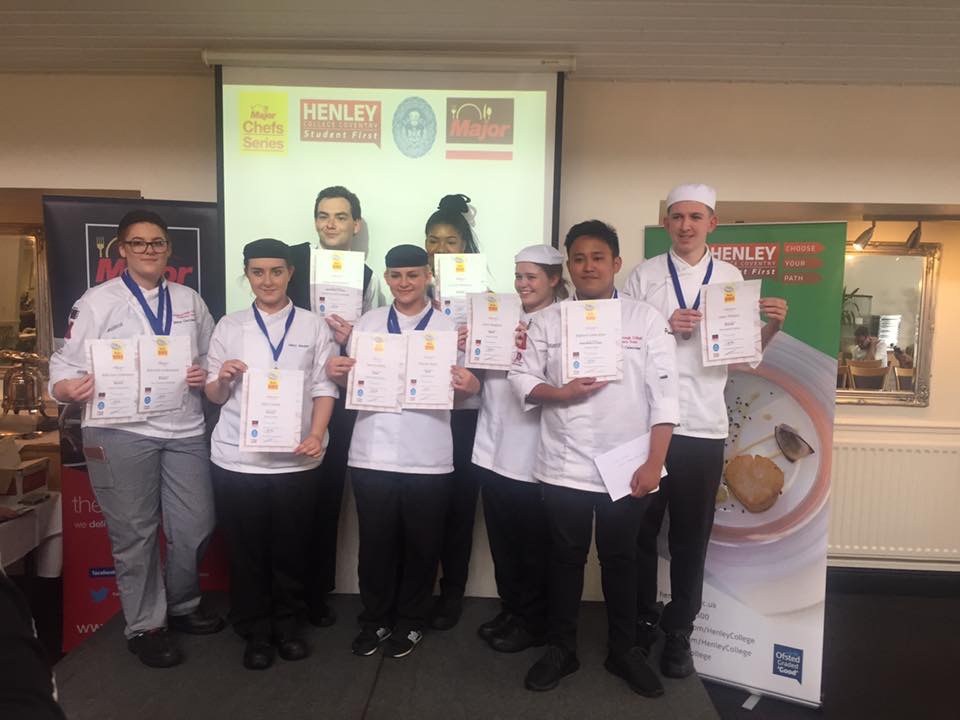 Loughborough College hospitality students reached the 2017 finals of the Major International Series in their first ever year of entering the national competition – and have come away with nine medals and two Best in Class titles.
The eight-strong College culinary team lined up against students from across the country to go head to head for a range of challenges designed to showcase their skills, expertise and creativity.
James 'JJ' Charlesworth scooped gold and Best In Class for restaurant skills while Raphael Cabarubias and Martha Wells took gold in the street food category with Raphael awarded Best In Class. Demi Gaughan and Mary Harper won respectively silver and bronze in the same category. Martha Wells won silver in Gateau and Billie Underwood and Lechaie Macmanus each secured bronze for two course lunch with Billie also winning bronze for pastry goods.
For JJ, a former Mapplewell Hall School pupil, Loughborough College is his first experience of mainstream education and this was his first ever culinary competition – "so to not only win gold but also be awarded Best In Class was unbelievable.
"I had to do a two table layout for a three course meal with a two wine selection and three napkin folds. I also created a cocktail, which was a Cherry and Almond Alexander," said JJ, 19, who lives in Loughborough.
"As I had never done a competition before I didn't expect anything but a low mark, so when they called out my name I was completely shocked – but so happy.
"I have been with the College for nine months and am really enjoying it. I'm returning for the patisserie course next year."
"The students are so enthusiastic and dedicated. They're always coming to me bursting with ideas," said Loughborough College Hospitality and Catering lead Darren Creed.
"They were asked to incorporate Major's range of flavours in the dishes they created and did an outstanding job.
"JJ was amongst several of our students competing for the very first time – and in our debut year at this competition – which makes these results particularly amazing. We are very proud of them all. They truly are a credit to Hospitality and Catering and Loughborough College.
"I would like to say it is a great end to the academic year – but we've not finished yet!"
This month sees Hospitality and Catering students Emily Bucknall and Sian Dixon both heading to London with major titles in their sights - City and Guilds Medal for Excellence winner Emily Bucknall for both the 2017 national Lion Awards and a People's Choice Awards and Sian for this year's Craft Guild of Chefs Graduate Awards.
Pictured: (left to right) Loughborough College Hospitality and Catering students Billie Underwood, Mary Harper Wells, JJ, Martha Wells, Lechaie MacManus, Demi Gaughan, Raphael Cabarubias, Lewis Dobson