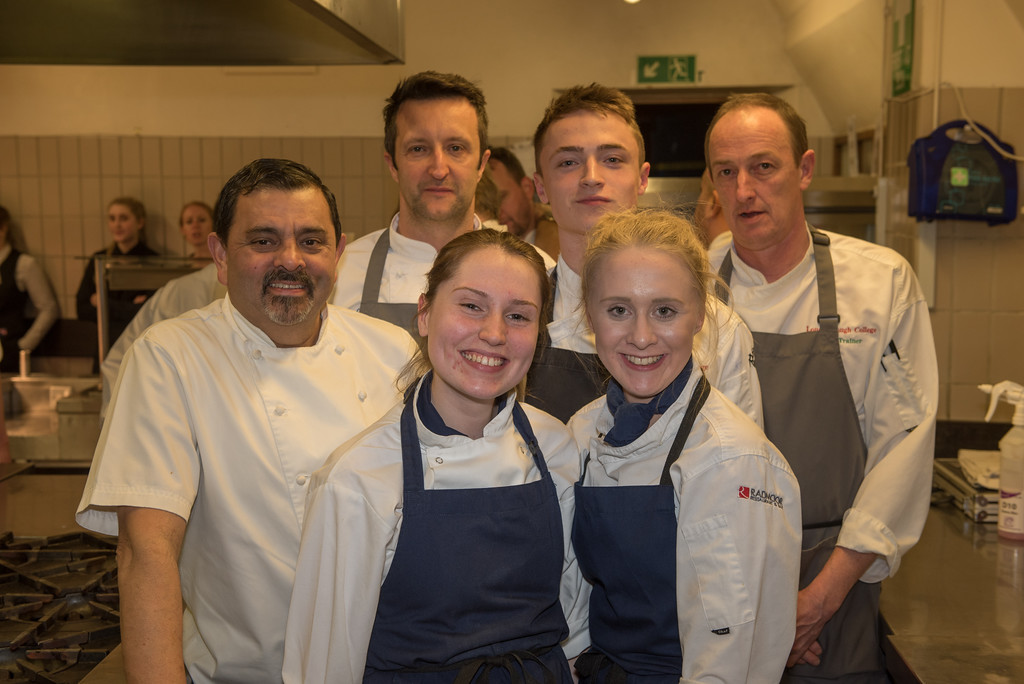 A major event hosted by Corpus Christi College, Cambridge University saw Loughborough College invited to join some of the country's top chefs for a feast in aid of the NSPCC.
Emily Bucknall, Sian Dixon and George Johnson helped create a seven course sit down dinner for 126 guests involving 1134 portions of food.
The trio worked alongside leading culinary names including celebrity TV chef Cyrus Todiwala OBE of London's award winning Café Spice Namaste, Mark Poynton – Chef Patron of Michelin-starred Alimentum, National Chef of the Year winner Russell Bateman from Colette's at The Grove, Adam Smith – Executive Chef at Coworth Park and four-time Parade Des Chefs gold medal winner Hayden Groves, Executive Chef at Baxter Storey.
The Feathery Feast raised more than £10,500 for the charity and the Loughborough College Hospitality and Catering student trio were thrilled to offer particular assistance to Cyrus Todiwala for 'Recheado de codorna cafreal com arroz' - Quail, minced quail, whey cheese, pistachios, spices and Hayden Groves for his play on the classic rhubarb and custard.
"It was a fantastic opportunity for our students. Sian, Emily and George to work in such an historic location and with such amazing chefs.
"Cyrus took the students through every element of creating the Asian-spiced Quail course, opening them up to a whole new level of flavours and taking them through key advice on plating the dish. Both Cyrus and Russell have invited all three students along to visit their restaurants and to gain work experience there."
Emily Bucknall added: "It is amazing to be able to say I worked on this event. The location alone was incredible. It was like Hogwarts!
"But despite the setting being a little intimidating, we really felt at ease with the chefs. They were all so easy to get along with and that meant we could relax and really get a lot out of the experience.
"Cyrus was so laid back and what we helped him create was nothing like the curries I, and I am sure most people, consider as Indian cuisine. The spicing was so complex and subtle. It was so valuable to see that working first hand. Then I joined Hayden Grove to work on his dessert. There were layers of jelly, compote, sorbet, caramelized chocolate, foam – and yet he brought it all together so quickly and expertly."
Cyrus Todiwala explained: "Working with the students was terrific, because they were all keen to make the most of the practical experience and they were observant too.
"It was an important night in a historic venue and expectations were high. But I can truly say that they rose to the occasion and were an immense help to me.
"I wonder where they will set their sights next!'
Murray Chapman's Passion to Inspire works with colleges, farms and top chefs to encourage and support young people in their aspirations to join the industry and the organization was invited to collaborate with Chris Le Vien and his team for the highly successful Corpus Christi event.
Picture courtesy Jean-Luc Bezanet – (left to right back row) Cyrus Todiwala OBE and Loughborough College's Darren Creed, George Johnson and Adrian Todd (front left to right) Emily Bucknall and Sian Dixon