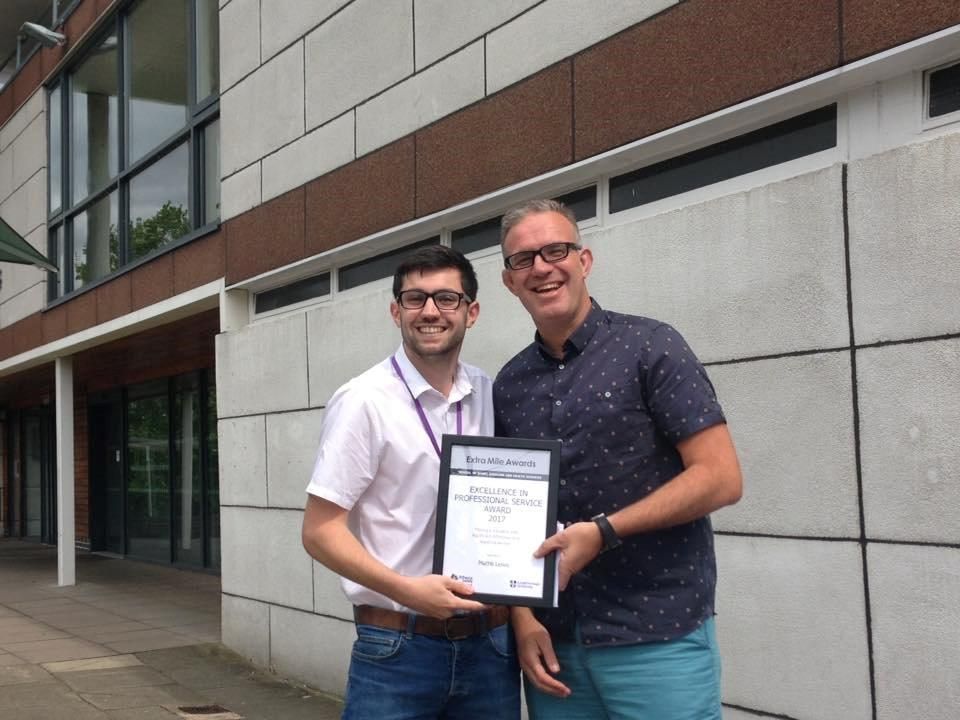 An apprentice studying with Loughborough College has been presented with an award for excellence – hot on the heels of education watchdog Ofsted rating the College Outstanding for apprenticeships.
Mattie Lewis has been studying Business Administration at Loughborough College alongside working as an apprentice at Loughborough University and although he only took up his post last October so impressed bosses and colleagues with his rapid progress that he was chosen to receive the 'Extra Mile Award for Excellence in a Professional Service.'
"Despite having to take time off for an operation Mattie has worked steadily and kept himself on track and it's always a pleasure to hear feedback from his manager because it's consistently glowing," said Gaynor Noon, Apprenticeships Instructor and Trainer at Loughborough College.
"We were particularly pleased to hear about the award he has recently been presented with, nominated by his colleagues".
"I was surprised to be nominated for the award because everyone in the team works hard and deserves it as much as me - but I'm very grateful and was really happy to receive it," said Mattie, 19.
"I was apprehensive about the apprenticeship at first but Loughborough College has been so supportive and everyone on my team at work is really kind. This was definitely the right way to go for me – I get experience of working, I'm studying for qualifications and I'm getting paid – so wins all round."
As Mattie reaches the end of his first year of a three year apprenticeship, he is completing his NVQ Level 3 before moving on to his AAT Level 2 with the College.
Jenny Sutton, Finance and Office Manager at the University's School of Sport, Exercise and Health Sciences, added: "Since joining us Mattie has been assisting with finance and purchasing administration alongside day to day School Office activities. Within a very short period of time he's become knowledgeable and capable of dealing with a range of complex queries and requests efficiently and courteously. Mattie was nominated for his award by School staff and colleagues in recognition of the contribution he has made. He's a pleasure to work with and his enthusiasm and commitment are a credit to him."
Pictured: Apprentice and Loughborough College student Mattie Lewis (left) with Mark Lewis, Dean, School of Sport, Exercise and Health Sciences, Loughborough University