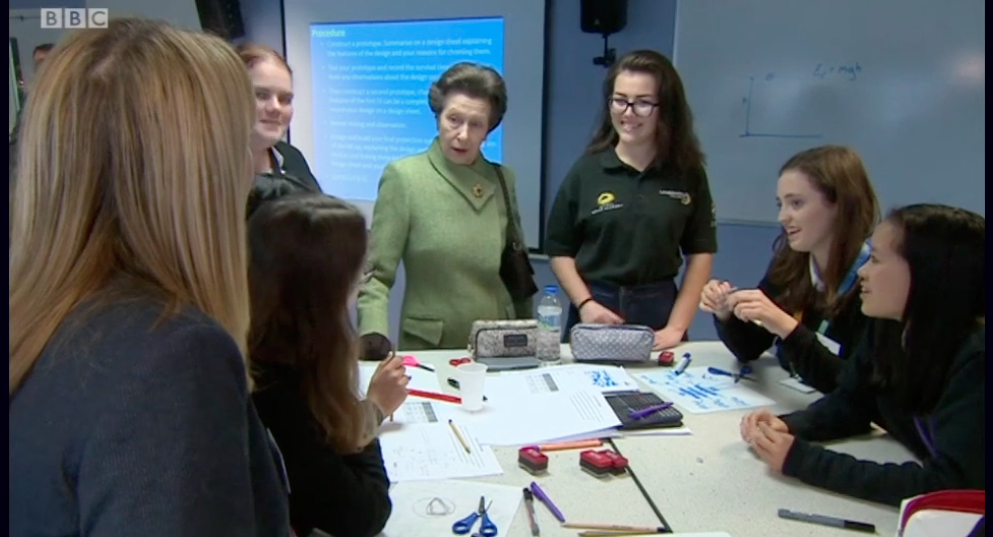 Princess Anne has been talking to Loughborough College student Abi Burton about raising the profile of science and engineering amongst females.
The Princess Royal is patron of the Women in Science and Engineering Campaign and joined a master class where Abi was sharing her experience from the unique Space Engineering programme launched by Loughborough College in association with the National Space Academy.
Abi, who studies A-levels in Physics and Maths as well as Engineering in a space context for her Loughborough College course told BBC East Midlands Today: "I want to show that I can be as good as the boys.
"I can do something science-ey and I don't have to do something that girls would typically do. I can be a powerful woman in science."
Her Royal Highness was visiting the National Space Centre to learn more about the launch of the master class initiative, on which Abi is a mentor alongside fellow female Loughborough College space students.
The government has declared 2018 as the year of Engineering with a drive to raise its profile and increase diversity in the sector.
Watch Abi meeting HRH Princess Anne and talking to the BBC 7:26 minutes into the programme here: https://www.bbc.co.uk/iplayer/episode/b09tm404/east-midlands-today-late-...
Pictured: Princess Anne with Loughborough College Space Engineering student Abi Burton