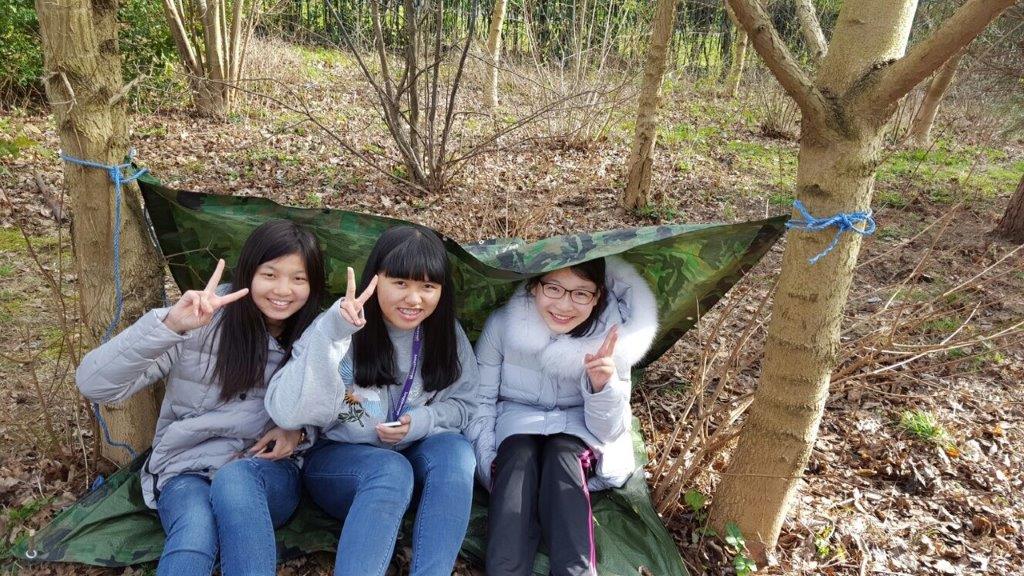 International students admitted they felt like Bear Grylls during a recent activity day at Loughborough College.
The 20-strong group from China were on a two week Loughborough College Education Experience trip but took a break from the classroom to head outside and pick up some very different skills from Public Services degree-level students.
First up was fire making – without a box of matches in sight. "We were using flint and steel and that takes quite a knack and often a great deal of persistence to get right," said Daniel Bellion, Public Services lecturer at Loughborough College.
"But the students certainly rose to this demanding challenge and things got quite competitive. One student spent 30 minutes and developed a blister before finally getting a flame but was absolutely thrilled. Each time a student was successful every one of them triumphantly shouted, 'Bear Grylls'.
"After that we got to work with a tarpaulin using it to create a shelter. Then once that was done we set up our cooking.
"There was no scavenging like Bear might have done but we did set out to create a campfire meal which had a distinctly British feel - beans on toast, custard creams and a mug of tea.
"The students were unfamiliar with how to combine the toast and beans and were also surprised to see us put milk in the tea - but the key lesson was how to dunk the biscuits in the tea.
"There was an award for top female and top male plus Loughborough College Public Services t-shirts for everyone. All the students loved getting their hands dirty."
"They really did get a lot out of the experience – they don't have Public Services courses like ours in China," added Della Armstrong, International Welfare Officer at Loughborough College.
"This is the third group of Chinese students we have hosted for our Education Experience this year and in addition to giving them the opportunity to join our A-level classes, we offer the international students the chance to sample a range of things from across our curriculum – such as time with Public Services or with Hair and Beauty.
"They also stay with host families and take cultural trips in the region and to London. Together with the extensive time the students spend with us at Loughborough College this gives them excellent one on one practice with their English language and, of course, a real feel for what it is like to attend a college in the UK."