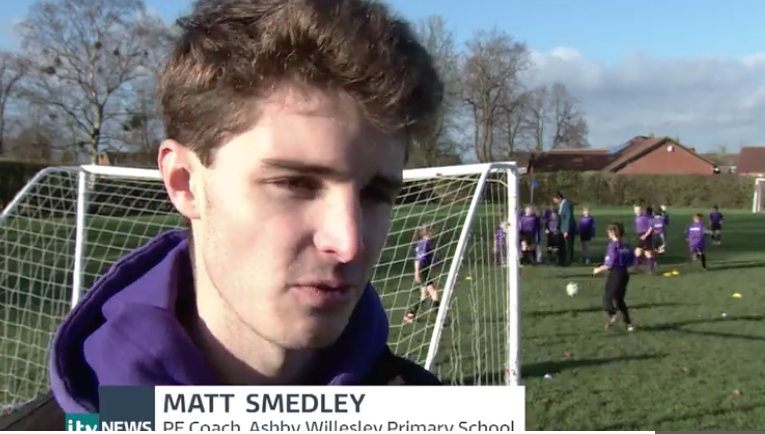 ITV news has been talking to a sport teacher who trained with Loughborough College and has hit the news headlines alongside Gareth Southgate.
Matthew Smedley became the famous 'Mr Smedley' after he went along with pupils from Ashby Willesley Primary School to the National Football Centre at St George's Park for the launch of the England manager's handbook for youth football coaches, We Only Do Positive.
The 20 year old was part of Loughborough College's successful and pioneering School Sport Apprenticeship programme before being taken on full time by the Leicestershire school where he now coaches more than 400 pupils.
After Year 3, 4 and 5 children from Willesley talked about their teacher 'Mr Smedley' during a question and answer session with Southgate which made national news, ITV went along to the school to talk to the young teacher.
"I'm really proud of the children and what they achieve at school," Matthew told ITV. "I try to instil in them to be the best they can be. I want them to respect themselves and then they'll be able to respect others."
"Matt was an excellent School Sport Apprentice and his impact in school was almost immediate. The children warmed to him quickly and this allowed him to really make a difference across all year groups in the school," said Loughborough College Sport Development Manager Rob Jarram.
"But Matt is not alone in being offered work in the school he was placed at. The programme has a high percentage of apprentices who are offered a role in their schools, as well as a good number going on to higher education to pursue a teaching career."
The award-winning School Sport Apprenticeship programme was created by Loughborough College – which has been awarded Outstanding for its apprenticeships by education watchdog Ofsted – and has been praised for its role in inspiring and motivating young people in around 20 primary and secondary schools.