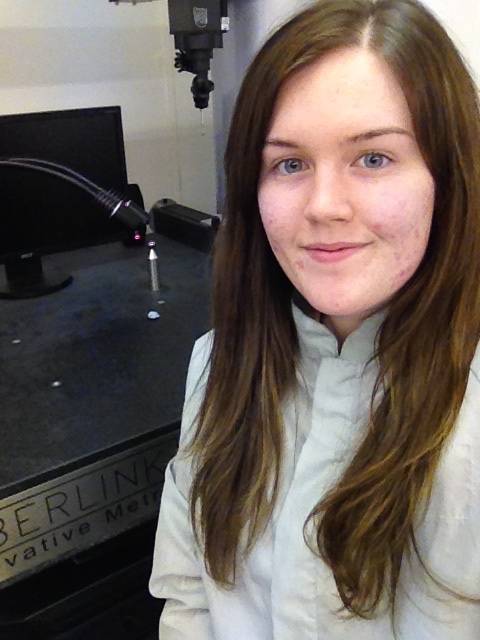 A Loughborough College Higher Apprentice has discovered she will join efforts to find evidence of life on Mars.
Alexandra Lovat was selected for the UK's first Higher Apprenticeship in Space Engineering, launched by Loughborough College in association with the National Space Academy, and is set to embark on design work for the mission exploring the red planet.
The 19 year old has been working on the pioneering programme at Magna Parva's Leicestershire base, developing her skills on a range of projects, alongside studying with Loughborough College and was thrilled to hear about her next challenge.
"I have been looking at systems for acoustic fuel manipulation in microgravity situations and systems for thermal protection as well as working on metrology – precision measuring and testing of the materials involved, before they are sent into space. I had really been enjoying everything since I began my Higher Apprenticeship 18 months ago but when I heard about the next stage of my training and the project I would be involved with I got very excited.
"I am going to be training in Computer-aided Design (CAD) and will have the chance to be hands on in the development of a robotic arm to go onto the Mars Rover. It is fantastic to think I will be contributing to something which will be part of exploring the planet – and making potentially ground-breaking discoveries.
"I have learnt so much on my Higher Apprenticeship and everything I study with the College has a direct application to the work I am doing – and not many people can say they had a look at a work package their tutor put together for astronaut Tim Peake, which has gone up to him in the International Space Station.
"I not only have the chance to graduate from this programme with a University of Leicester degree but I am getting years of hands on experience – and I am making space industry connections and being given so much useful advice.
"The space sector is growing rapidly and it is exciting to be a part of that. There are so many paths to follow but I would love to eventually be involved in human space flight and to work for the European Space Agency."