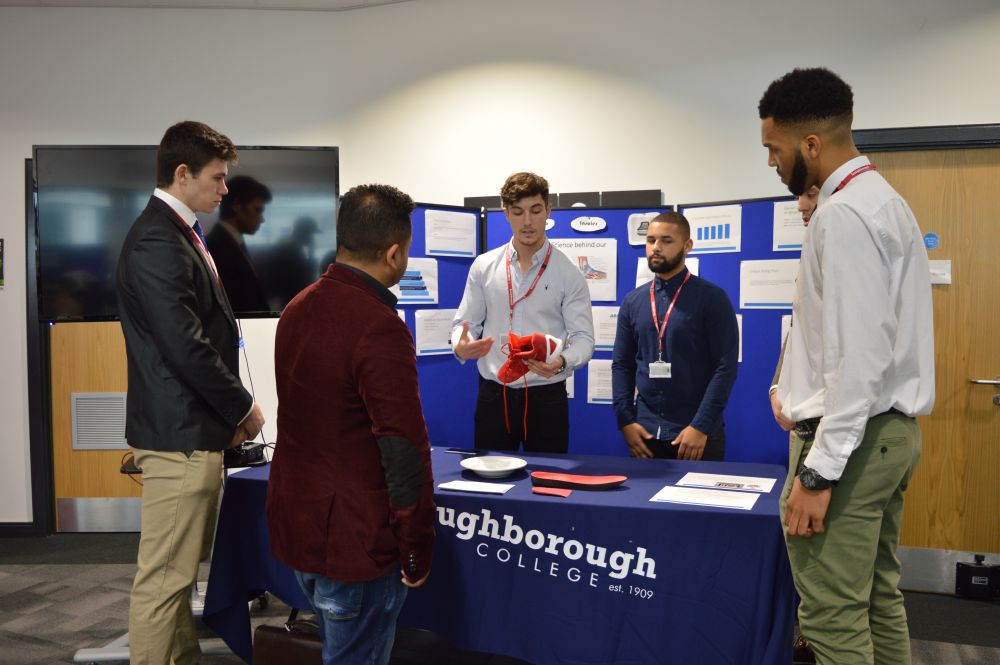 Loughborough College students have launched their battle to be named Young Enterprise Start-Up Company of the Year.
A major event at the College set the stage as 12 new businesses introduced themselves to industry experts, taking a step closer to the national crown.
Dragon's Den-style pitches, interviews and the creation of an official trade stand are just some of the challenges to be faced over the coming months by the entrepreneurs, who are all studying for their degrees with Loughborough College, before winners from across the country go head to head at the 2017 London final.
"The event enabled each group of entrepreneurs to create a stand to showcase their idea.
"The marketplace environment also offered a fantastic opportunity to network with a range of business professionals who are able to ask questions and offer feedback.
"This included 12 professionals who have agreed to become mentors to the fledgling companies and by the end of the event everyone has a good idea who will be the best fit for their future partnerships," said Iqbal Ullah, who heads the Foundation Degree in Business Management at Loughborough College.
"In all we have 51 students taking part across twelve businesses.
"Companies set to compete include one planning to create an innovative water bottle which tracks water consumption – with an eye on general health as well as, specifically, the workplace, as dehydration can impact on focus and productivity.
"Another is set to develop a durable, universal tool for attaching and removing rugby studs and a sporting idea is also at the heart of a third company's product, modifying existing technology to create a ball collector for sports such as golf and cricket.
"A device which integrates a cover and stand to hold open a book is being planned by one business while an app offering information on local sport and entertainment and support services is also in development.
"There is a sports shoe insole which has an extension to protect and support the Achilles, one of the most common injury areas in high-impact activities and another company is looking at a shoe insole made from an antibacterial material which retains those properties even after washing.
"Another company is offering a way to retro-fit people's existing bicycle accessories and clothing with LED lighting strips – avoiding the need for cyclists to buy the new and very expensive products already containing this, while a goal-keeping glove that is specific to female football players is set to be the product for another of the companies.
"Finally we have companies offering students products and signposting them to services which aid with stress relief, another group creating healthy, guilt-free desserts and a business developing a hands-free attachment enabling a safer and more hygienic option to lift toilet seats in public sites such as hospitals, hotels and restaurants."
Behind the scenes the event was organised by degree students from the Events Management and Hospitality Management courses at Loughborough College.
"They were given a brief by their clients – the student entrepreneurs taking part in the Young Enterprise competition – and then devised and developed a strategy which was put into action by two teams," said Shabana Sumra, Lecturer for the Business, Events & Tourism Management degree courses at the College.
"Headed by Kerri Flynn and Gemma Griffiths the teams arranged hospitality, drew up floor plans and lined up chairs, tables and TV monitors, oversaw health and safety risk assessments, designed marketing materials and display boards, finalised the running order and confirmed and briefed the keynote speaker and judges.
"It was fantastic to see this event by the students, for the students, come together and for it be such a success – a great way to launch the Loughborough College businesses on their journey to compete for the 2017 title."