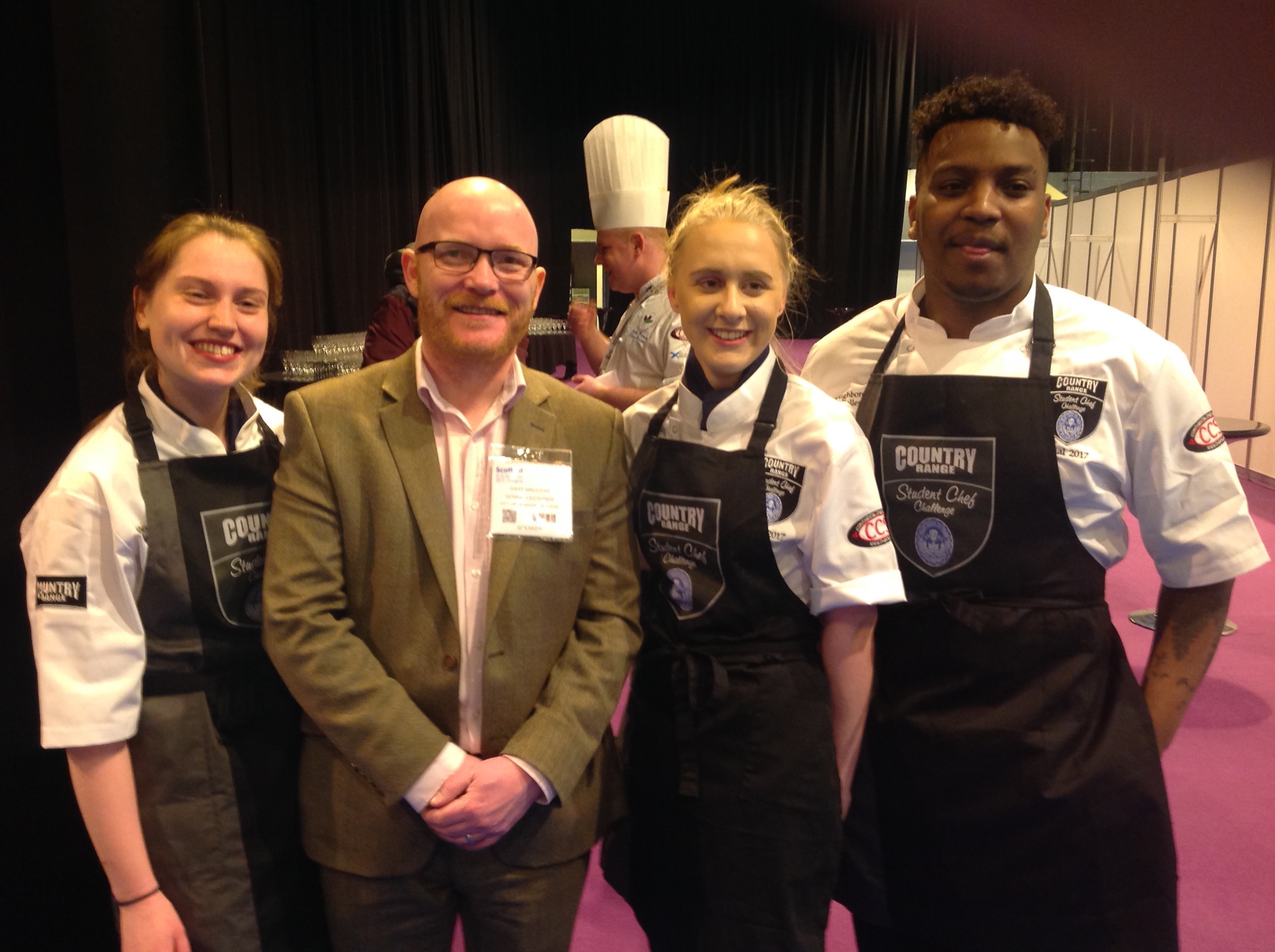 Loughborough College have become Country Range Student Chef Challenge medal winners for the second year in a row, scooping silver at the prestigious national culinary competition.
The College took the crown at the 2016 Grand Final, earning them a coveted place alongside the Craft Guild of Chefs British team at the Olympics in Germany – and bronze for Hospitality and Catering lead Darren Creed.
Emily Bucknall, who was on last year's winning team, was back alongside Sian Dixon and Aveir Gordon for the 2017 final in Glasgow on 15 March.
Working against the clock to produce three dishes in an hour and a half, the trio delivered a Healthy Gourmet Fine Dining menu of Pumpkin and freekeh risotto with toasted pumpkin seeds and parsley jus followed by pan-roasted Sea Bass with Jerusalem artichoke puree, flageolet and butter beans, roasted garlic and red wine reduction, with a dessert of Jasmine and orange parfait and mango sorbet.
Darren Creed said: "To succeed in returning to the Grand Final with the chance of retaining our title was an amazing achievement in itself but to win a medal for the second year in a row is fantastic.
"Together with the enormous pressure of the competition, Emily, Sian and Aveir had to contend with losing not only electricity but also gas. But despite that, they still hit their timings, served food that looked really good and won silver.
"This is a fantastic competition with an excellent team ethic that really brings out the best in young chefs and I am incredibly proud of our students."
Pictured: MasterChef: The Professionals winner Gary Maclean with Loughborough College Country Range Student Chef Challenge 2017 medal winners (left to right) Emily Bucknall, Sian Dixon and Aveir Gordon