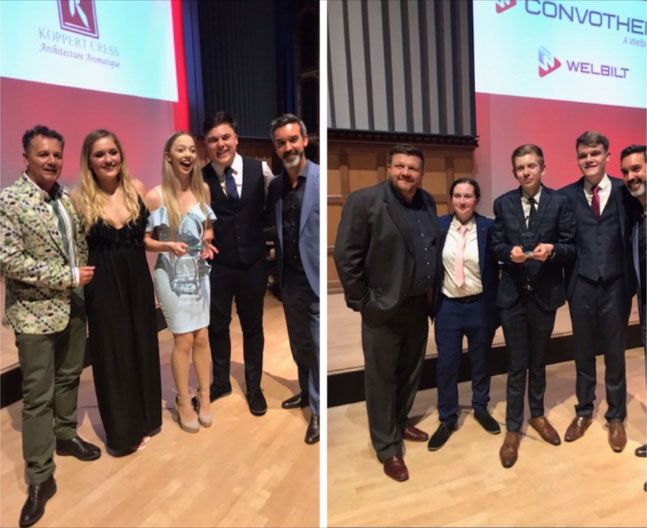 Loughborough College has scooped four top prizes at the prestigious 2019 UK Young Restaurant Team of the Year grand final.
Two trios of young chefs representing Loughborough College and its Radmoor restaurant lined up with three other finalists from across the country before being announced as winners across four of the five categories.
Grace McGreal, Kieran Rudolph and Ryan Archer were awarded Best Menu and the Ignite for Imagination accolades while Finlay Royle, Isabel Morris and Toby Booty received Best Use of Living Ingredients, with Toby taking the Best Service title.
The Best Use of Living Ingredients prize will see the students spend three days in Holland with sponsors Koppertcress and as winners of Ignite for Imagination, the students will spend a day with the UK's representative in the Bocuse D'Or, the world-renowned cooking competition.
Loughborough College even won an additional ad hoc prize, to create and pipe the best authentic Knickerbocker Glory – which went to Kieran.
With VIP access at the annual Skills for Chefs conference in Sheffield, where the 2019 showdown took place, the students were also given the opportunity to meet a host of celebrity chefs, including Michelin starred Tom Aikens, Paul Foster and Clare Smyth MBE – the first female British chef to hold and retain three Michelin stars, plus James Golding and Ryan and Liam Simpson-Trotman.
"I am so proud of the students," said chef lecturer and hospitality lead at Loughborough College, Darren Creed. "They have worked so hard and it was brilliant to see both teams selected to go forward to the final - but to then achieve what they did is outstanding.
"To see them win four of the five awards was amazing. The students were over the moon. We are all blown away. It is a brilliant finish to an incredible year."
The young chefs were competing against Westminster Kingsway, City of Glasgow and Kendal colleges. With Kieran, Ryan, Isabel and Finlay in the kitchen and Toby and Grace front of house, each of the teams were challenged to cook and serve a three-course menu, including pre-arrival cocktail and speciality coffee to finish the meal, and to select a starter and main course wine.
Isabel, Tobias and Finlay cooked and served Salt Cod Baccala - a courgette flower filled with poached salt cod, garlic and lemon butter sauce with a Koppertcress-inspired salad; roast supreme of chicken with piri piri glaze, bolinhas de chourico com batata, grelos e chourico and Madeira jus and for dessert Pao de lo, Casa Luker chocolate filled with Baba de Camelo – burnt orange and olive oil cake with caramel chocolate mousse and vanilla ice cream.
Grace, Kieran and Ryan produced poached lobster with Solferino vegetables, cold tomato essence, saffron and paprika oil; roast chicken breast and drumstick, crispy skin, olive crumb, roasted red pepper puree, kale, chickpeas and chorizo and a smoky jus and a Pastel de Nata – chocolate and almond crumb, cherry gel and chocolate sorbet.
Pictured: Loughborough College and its Radmoor Restaurant scoop four top prizes at the 2019 UK Young Restaurant Team of the Year – Isabel Morris, Finlay Royle, Ryan Archer and Kieran Rudolph will be joined by Grace McGreal and Tobias Booty