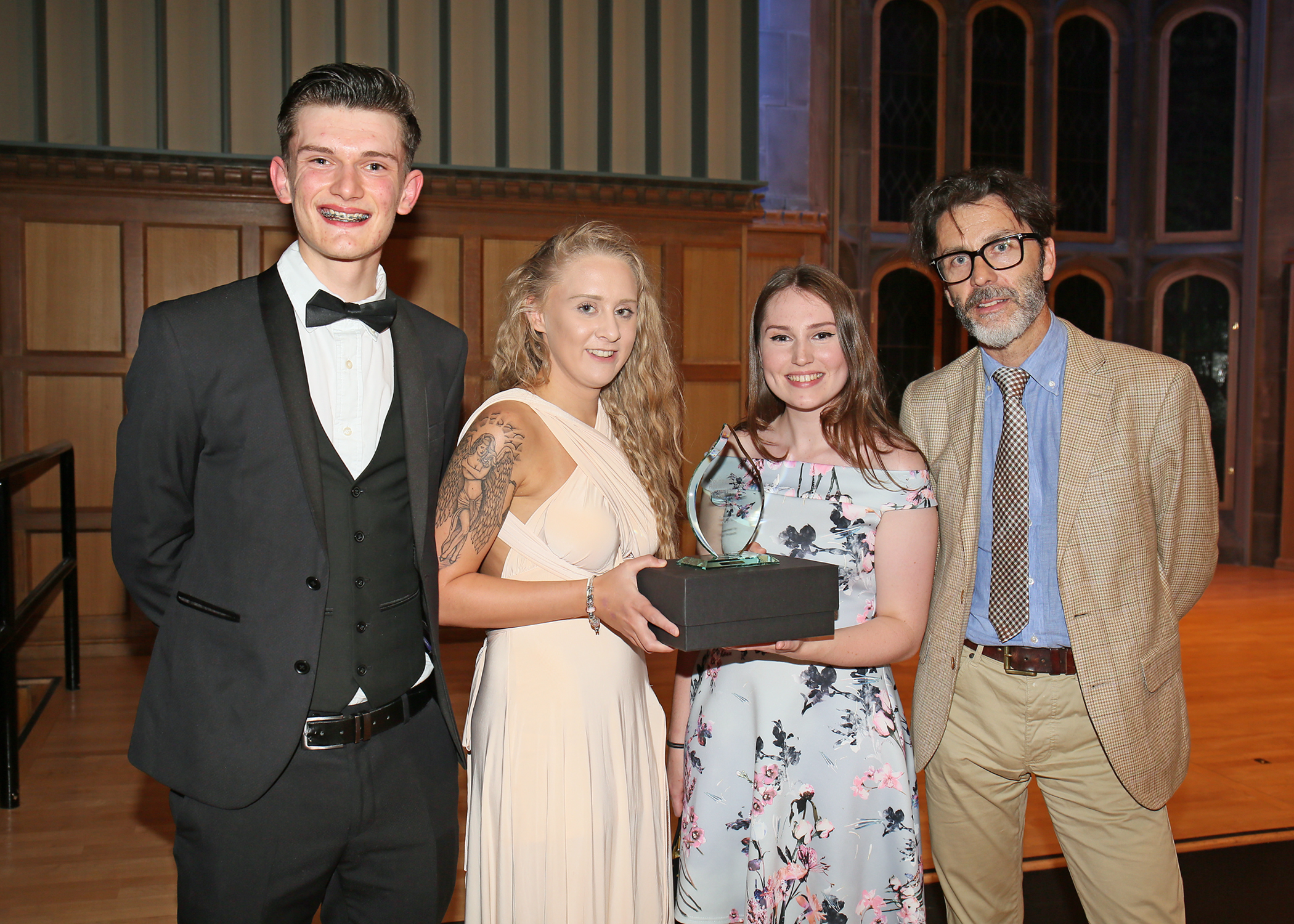 Loughborough College has been awarded a top prize at the 2017 UK Young Restaurant Team of the Year Grand Final.
Hospitality and Catering students Emily Bucknall, Sian Dixon and Zac Gudger scooped the Best Service Team title at the prestigious competition.
The trio joined four other teams from across the country after being named as finalists for the MSK-sponsored event, which took place at the 20th Anniversary Skills for Chefs conference in Sheffield and featured an audience with Tom Kerridge, dinner with Cyrus Todiwala CBE, a Master Class with Italian chef Francesco Mazzei and TV chef Joe Hurd as host.
The success was the latest in an outstanding run of competition wins for Loughborough College – not least for Emily who began her final year with the College working alongside the Great Britain Craft Guild of Chefs team at the International Culinary Olympics, after being part of the winning team at the national Country Range Student Chef Challenge. The young chef was once again on the medal-winning team at this year's competition, was recently awarded the City and Guilds Medal for Excellence and has now been offered a coveted position with the two Michelin star Restaurant Sat Bains.
With Emily and Sian in the kitchen and Zac front of house, the trio were challenged to create cook and serve a three-course Italian-themed menu featuring parmesan, balsamic vinegar, Kassa Lukka chocolate and Koppert Cress, a pre-arrival cocktail and speciality coffee to finish the meal and to select a starter and main course wine.
"Our students met and learned from renowned chefs like Tom Kerridge, Cyrus, Francesco and Gennaro Contaldo - it was an incredible opportunity. From start to finish UK Young Restaurant Team of the Year has been a fantastic competition be part of.
"This was the first year we had entered – so to reach the final and have the judges describe the taste on all our courses as 'superb' before coming away with the 2017 Best Service Team prize is a particular tribute to Emily, Sian and Zac," said Loughborough College Hospitality lead Darren Creed.
The students also joined two Michelin star chef Paul Cunningham on stage to taste his creations. "When Emily described one dish as smelling and tasting like her Grandad's greenhouse Paul said it was better than any description he'd had from any restaurant critic and everyone was tweeting it.
"The industry is crying out for individual cooking with creativity and innovation and I hope the accolades our students have been receiving demonstrate the outstanding skills they are set to take into their careers.
"The result at UK Young Restaurant Team of the Year really has topped off yet another wonderful year for our young chefs at Loughborough College. "
In addition to the UK Restaurant Team of the Year Best Service Team title and Emily's outstanding achievements, Loughborough College has received more than 70 culinary titles and accolades this academic year including:
International Culinary Olympics bronze for Darren Creed with the Craft Guild of Chefs Great Britain culinary team supported by national 2016 Country Range Student Chef Challenge overall winners Emily Bucknall, Daniella Bromley and Rebecca Brooks
Overall Best in Show title for the second consecutive year together with 57 medals at the Welsh International Culinary Championships 2017
Two Best in Class titles and nine medals including three gold at the 2017 Major International Series
Country Range Student Chef Challenge 2017 medalists for the second consecutive year with Silver
Finalists at the international Future Talents Cup in Holland – the first ever team selected to represent the UK at the competitiion
Teflon Diamond Standards Awards 2017 runner up – with Loughborough College chefs making up half the national finals line up
South African Chef of the Year finalists
Tabasco Hot Chef 2017 semi-finalists
Craft Guild of Chefs Graduate Awards semi-finalists
Pictured: Loughborough College win Best Service Team at the UK Young Restaurant of the Year 2017 Grand Final (left to right) Zac Gudger, Sian Dixon, Emily Bucknall and HK Projects' Jason Fish