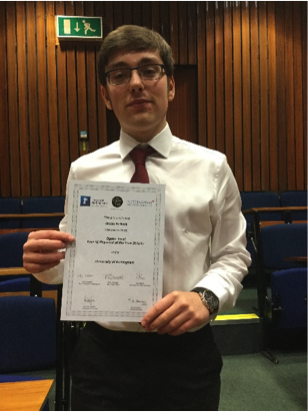 A Space Engineering student from Loughborough College has won the title Physicist of the Year.
Jacob Kellock was officially presented with the Ogden Trust accolade by the University of Nottingham.
The 16 year old, who studies on the unique Space Engineering programme delivered by Loughborough College in partnership with the National Space Academy, has also secured a place on the Isaac Physics Summer School.
"I was really happy to receive the award and my mum and dad, who were both there with me at the ceremony, are thrilled," said Jacob.
"There was a chance to talk to Physics and Astronomy PhD students on the night about their research and that was fascinating to me as I would like to study astrophysics at university.
"I was sure the Space Engineering course would be interesting but I never realized how just how interesting. It has really exceeded my expectations – and I've been given so many opportunities.
"I have been successful in getting a place on the Isaac Physics Summer School for calculus and physics at the University of Nottingham and during the summer I will also be at Leicester University for work experience with satellite technology used for agricultural observation in Saudi Arabia."