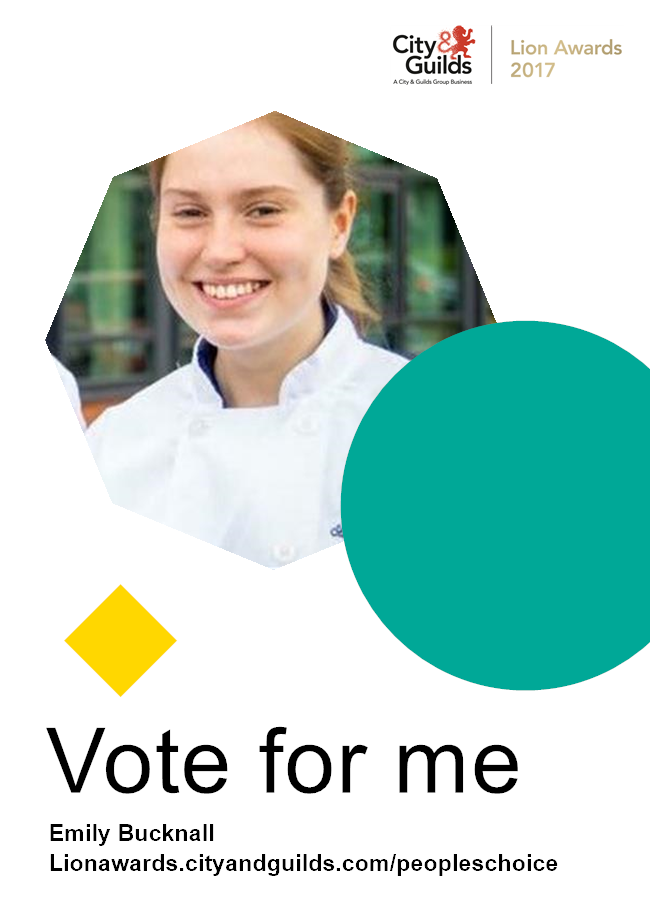 Loughborough College student Emily Bucknall is in line to win a major national award – but she needs your vote.
One of a select group of 2017 City & Guilds Medal for Excellence winners, Emily is now in the running for this year's People's Choice Award and you can show your support for her from today at: http://lionawards.cityandguilds.com/content/peoples-choice?f=B
In fact, you can vote for Emily every day from May 16 until midnight on 9 June 2017.
The top five and the People's Choice winner will be announced at this summer's prestigious Lion Awards.
Talented Loughborough College chef Emily received one of the coveted medals in recognition of her outstanding performance in the Level 3 Diploma in Advanced Professional Cookery
Emily assisted the Craft Guild of Chefs GB team at the 2016 International Culinary Olympics with teammate and former Loughborough College student Daniella Bromley - who won a Medal for Excellence last year.
The Hospitality and Catering student was also one of a Loughborough College trio who took the 2016 crown and were this year again medal winners at the national Country Range Student Chef Challenge.
"So many people across the country are considered for the Medal for Excellence so to hear I had been selected was unbelievable.
"I have had three amazing years at Loughborough College with the chance to do so much. But after working together in teams, supporting each other through so many competitions it is strange to be told I am being recognized individually."
Loughborough College Lead for Hospitality and Catering and International Culinary Olympic medal winner Darren Creed added: "Emily has worked so hard during her time with us – she has achieved distinctions in every test and every assignment and been part of so many wins for us.
"For Emily to be awarded the City & Guilds Medal for Excellence is phenomenal for her and without a doubt well deserved. We are all very proud of her.
"Now it would be fantastic if as many of us as possible could show our support by voting for Emily for the People's Choice Awards."