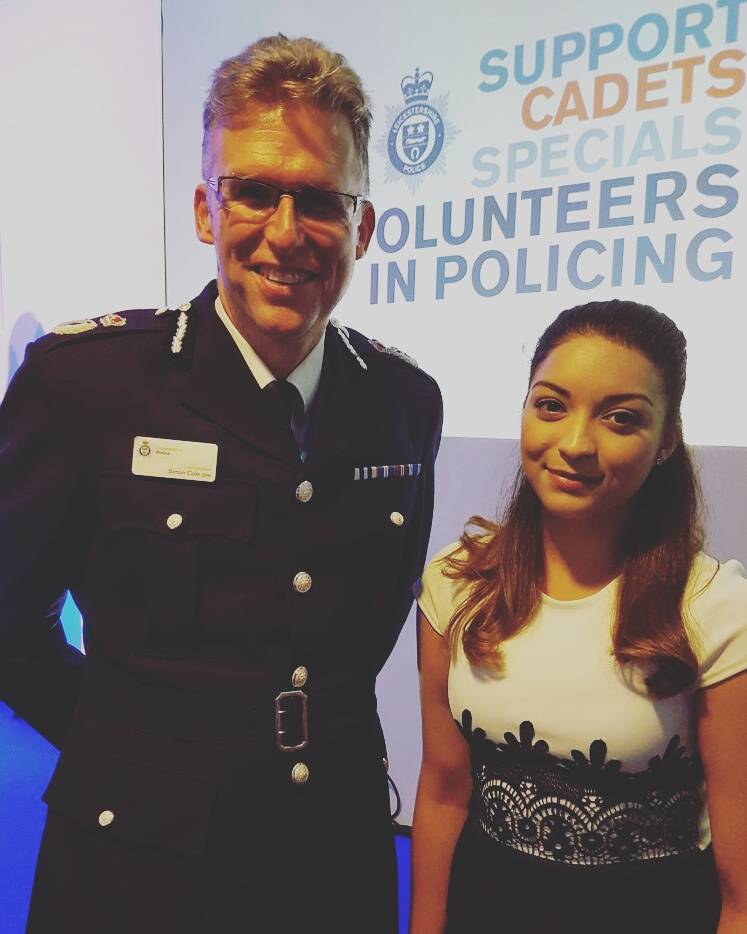 A Loughborough College student has been recognised for her commitment to police volunteering at a major county event.
Zulaikhah Kurshid Malik joined volunteers and guests at the King Power Stadium for the 2016 Volunteers in Policing Awards, applauding scores of people for their commitment and contribution to their communities.
Among those who attended the evening were Chief Constable Simon Cole, Assistant Chief Constable Phil Kay and Police and Crime Commissioner Lord Willy Bach.
Public Services student Zulaikhah joined the new Leicestershire Volunteer Police Cadet Programme when it launched at Loughborough College last autumn.
The College was the first in the area to host the Programme, which invites people aged 13 to 18 years to receive a practical understanding of policing and to support local policing priorities.
The VPCs embark on a 12-week programme where they are taught a basic knowledge of policing activity and complete a range of tasks, including operational practices, and explore issues such as drugs and alcohol awareness and antisocial behaviour.
The Cadets provide vital support to local policing teams by helping with crime prevention initiatives and community safety measures to festivals and other events.
Loughborough College lecturer in Public Services Daniel Bellion said: "Zulaikhah is one of our top students and is one of several from the college who volunteer as part of the Cadet Programme.
"It offers a great opportunity for our students not only to support our community but also to enhance their future career prospects, gaining valuable experience working alongside Leicestershire Police.
"We are very proud to see Zulaikhah's commitment acknowledged alongside the other volunteers – and she was thrilled to meet the Leicestershire Police Chief."
The partnership between Leicestershire Police and Loughborough College continues to grow in strength with students having volunteered more than 2,000 hours so far.
Pictured: Loughborough College Public Services student Zulaikhah Kurshid Malik with Chief Constable Simon Cole