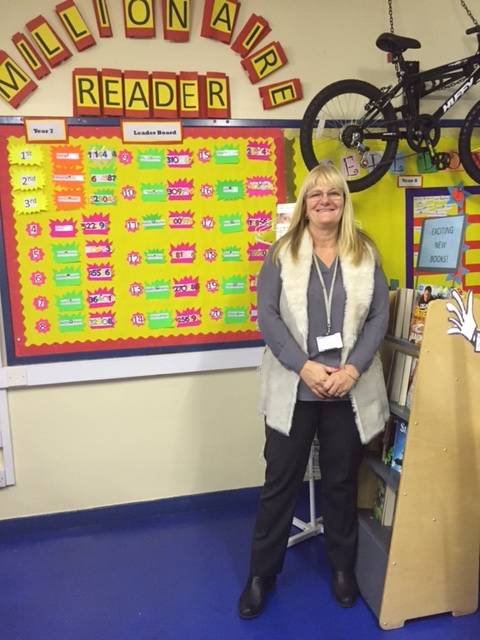 A Loughborough College student has single handedly created a high school library from nothing.
Lindsay Limb studied for her Level 2 Libraries Archives and Information Services qualification before progressing to her Level 3 at the College as she built the resource from a few donated books on one shelf in an empty room to a full library service involving every one of the school's 700 pupils.
Returning to work after 25 years raising her six children, Lindsay began as a volunteer but her successful growth of the library and the enthusiasm she developed in the children she worked with soon earned her the offer of a full time position at Top Valley Academy in Bulwell.
Loughborough College Instructor Trainer Gaynor Noon said: "Lindsay's achievement really is outstanding. Her passion for her role and for the pupils in the school exudes from every pore.
"Alongside working very hard at her qualifications she has not only built an excellent library from nothing but she has expanded the school's accelerated reader scheme to screen every one of the 700 children."
Lindsay Limb added: "When I heard our local library was shutting down I wanted to help ensure that children did not lose such a vital resource.
"At a parents' evening I got talking to Mrs Dutton, one of the teachers at Top Valley - where all my children have been - and I offered to go into the school several times a week on a voluntary basis and help set up a library. At the time, four years ago, I was having treatment for cancer so it was a bonus to have something to occupy me.
"Books were donated from other schools and libraries and what had been a handful on one shelf began to expand until a little room became a bigger room, I was offered a part-time job and then a full-time job. The Head has backed me all the way.
"Meanwhile, I was determined I should do things correctly and that's why I signed up to get my qualifications at Loughborough College, which have been invaluable. The staff have been so supportive and the courses have helped me grow in confidence to develop my ideas. I plan to study Business Management at the College next.
"I have had an apprentice working for me and am about to take on another before I get an assistant, which I really need now – I'm a victim of the library's success!
"I now have a great library which I fill with loads of displays and in addition to looking after the accelerated reader scheme for the whole school, I also run an after school club. This helps older children buddy younger ones for reading, to offer a space for homework support and to have fun with some educational board games.
"I have also introduced the Millionaire Reader scheme and have six new bikes to award children who have read a million words and pass tests on the books that have helped them achieve that – and we have just had our first winner. His Mum told me he was so motivated that they went out for a family meal and he read his book the whole time.
"I never tire of helping the children get excited around books. I love my work."
Pictured: Loughborough College student Lindsay Limb in the school library she created