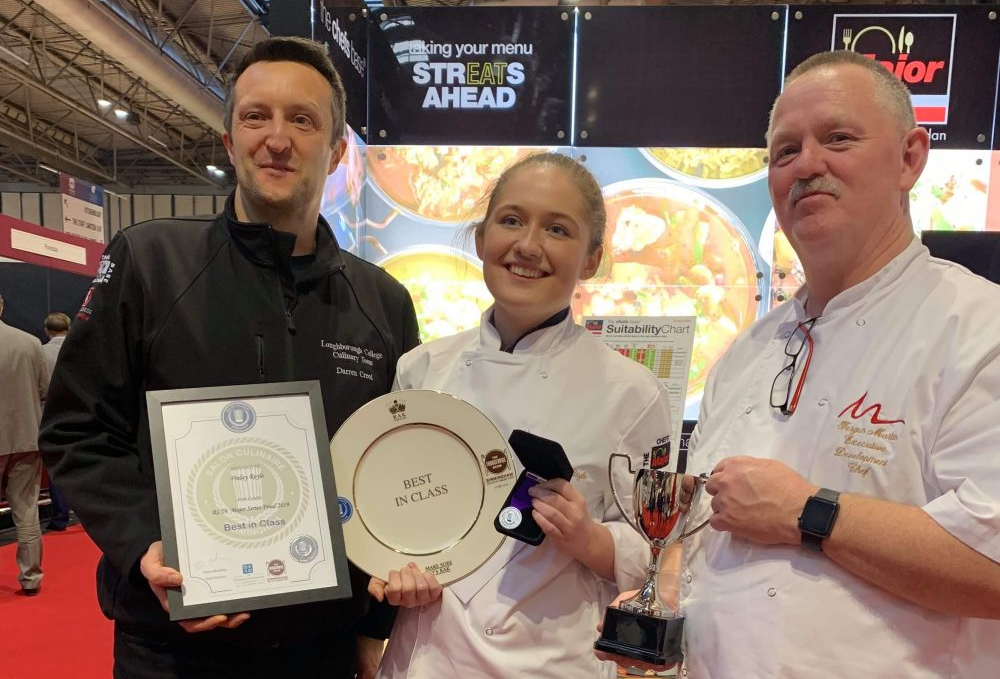 Loughborough College student Finlay Royle has taken the top prize at the Major International and Craft Guild of Chefs' 2019 Major Series.
After winning gold at the semi final in Coventry in June, the College Hospitality and Catering student lined up on stage alongside seven other young chefs from across the country for this year's UK final at the Foodservice Show in Birmingham.
With judges testing use of flavour and products as well as plating techniques and workmanship, Fin had only one hour to produce her chosen two courses – Butternut Squash and Cumin Soup to start followed by a main of Piri Piri Roast Poussin with hickory and lemon infused vegetables, poussin and chorizo sigara, veal butter glazed potatoes and Port veal jus.
"Fin was quite nervous beforehand but once she was on stage, although the oven went out twice during set up, she wasn't phased. She immediately settled in and hit all the targets she had been practicing for the past few months, presenting her dishes beautifully. But then we had a nail biting four hours waiting for the result," said Darren Creed, chef lecturer and hospitality and catering lead at Loughborough College.
"It was brilliant when they announced Fin had won. She had worked so hard and really pushed herself. The judges praised the combination of flavours Fin had created and how each course complemented the other. The College is very proud of her and Fin's win is certainly an inspiration to the younger students who are heading into competition themselves soon."
Fin added: "There was a lot of pressure to create both courses on stage within one hour but once you are in the zone you don't notice the other people.
"It was a long time to wait for the result but I really didn't expect anything – so when they said my name I felt ecstatic. It was the best feeling."
Fin received a £500 prize plus £250 for Loughborough College.
Pictured: Loughborough College student Finlay Royle after winning the 2019 Major Series competition, with (left) College chef lecturer and hospitality and catering lead Darren Creed and Fergus Martin, senior development chef for Major International