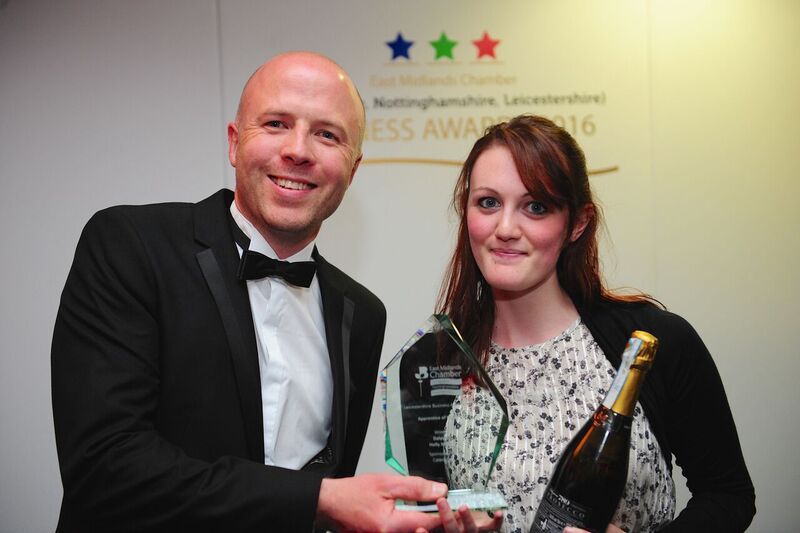 A Loughborough College student has been named as Apprentice of the Year 2016.
Holly Mundy scooped the title at the annual East Midlands Chamber of Commerce Leicestershire Business Awards.
The 20 year old, who is studying on the intermediate Association of Accounting Technicians (AAT) course at Loughborough College alongside working with Mountsorrel-based business communications and IT company Dalycom said the award was a "genuine surprise.
"I wasn't paying very much attention when they were making the announcement then suddenly everyone was congratulating me.
"It was a huge black tie event at the Leicester City's King Power Stadium with businesses from across Derbyshire, Nottinghamshire and Leicestershire and my first thought was, Oh no, I have to go up on stage in front of everyone. When I was accepting the glass trophy and bottle of champagne I was shaking like a leaf. Luckily I didn't have to say anything.
"After the application went in for the awards I was then invited to an interview where I was asked about my apprenticeship and my goals for the future. I couldn't believe it when I was told I had made it to the finals. I appreciated it enough that I had even been nominated. I never imagined I would win. It has taken a while for it to sink in but I do feel proud to have achieved this.
"I knew I wanted to take an alternative route to university and this is my third year with Loughborough College and Dalycom. I started with an administration course and now I am studying for the AAT qualification. It's brilliant because each enhances the other. What I am learning in the classroom really helps me at work and vice versa. I am enjoying it all so much, I am definitely not finished with the College yet – I am thinking of moving onto management accountancy or chartered accountancy."
Karen Murphy-Ryan, Curriculum Manager for Professional Education and Training at Loughborough College said: "Holly is a hard working and conscientious student and we are absolutely delighted she has won this award.
"We are looking forward to Holly progressing with her studies with us and have no doubt she has a bright future ahead of her."
Loughborough College's Holly Mundy accepts her Apprentice of the Year 2016 Award from Paul Roberts, Factory Manager, at Caterpillar