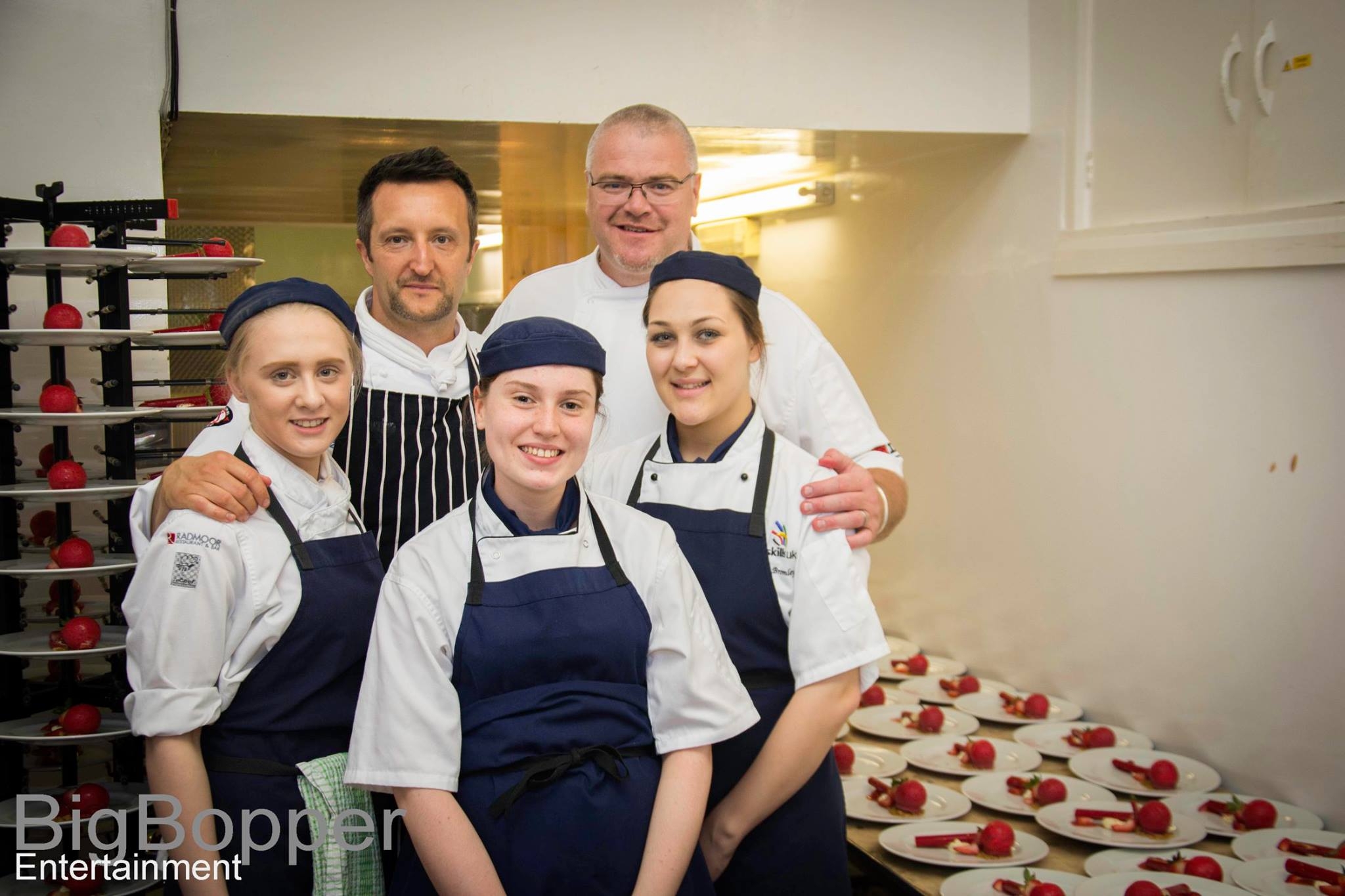 Loughborough College hospitality and catering students have been working alongside celebrated chefs for a major charity event – helping to raise almost £8,000.
Daniella Bromley, Emily Bucknall and Sian Dixon were invited to join some of the country's leading culinary names to create a 10th anniversary celebration dinner for 300 guests, hosted by charity Ups 'n' Downs.
The trio - together with Loughborough College's Darren Creed and Julie Eldridge – helped serve up a Great British menu at Wicksteed Park Pavilion in Northamptonshire.
Their team was led by chef Stuart McLeod with Daniella, Emily and Sian producing the dessert course of Strawberries and Cream' mint textures and white chocolate.
"It was fantastic, Stuart showed us an image of the dessert he had in mind and then he and the three students had to produce a design for that dish which was submitted to the Executive Chef – and it was Daniella's design which was chosen, a real boost for her," said Darren Creed, Loughborough College Lead for Hospitality and Catering.
"The students were introduced to all the chefs, heard about the history of each of the dishes and why they had been chosen for each course and were given a tour of the venue and kitchens before being allocated their sections.
"On the evening Daniella, Emily and Sian were brought out on stage at the event on the evening, with Stuart, before their course was served. And then at the end of the night all the chefs, including our students, were toasted.
"It was a real honour to even be invited to support the event but to for our young chefs to be given such an outstanding experience throughout the day and evening by the chefs and organisers was phenomenal."
Stuart McLeod is Director of specialist patisserie and breads producer Zuidam UK and his Loughborough College team worked alongside Mark Poynton, Chef Patron at the Michelin-starred Alimentum Restaurant , Rob Kennedy, Executive Chef at the Royal Military Academy, Sandhurst and Thomas Leatherbarrow, Director at Pastry Development Ltd. and their teams.
The event raised £7,703.58 and was hosted by Murray Chapman, whose Passion to Inspire was the driving force behind the evening for Ups 'n' Downs. The charity offers information and support for famllies affected by Downs Syndrome in Northamptonshire.
Pictured: (Left to right ) Sian Dixon, Darren Creed, Emily Bucknall, Stuart McLeod and Daniella Bromley