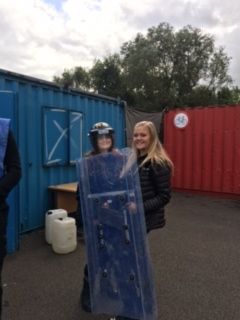 Police have been encouraging Loughborough College students to 'riot' – as part of a major training exercise.
Public Services students faced mounted police and dogs and bombarded Support Unit officers with missiles during a series of simulations at Leicestershire Police Headquarters.
"This was a rare and extremely valuable opportunity for our students when they were invited to join the Unit at Enderby," said Loughborough College Public Services lecturer Fiona Strang.
"They engaged with police for a range of potential scenarios, posing as a crowd getting out of control and aggressive – such as with rival team football fans or people eager for police to take action after a terrorist has driven into a crowd.
"On a mock street set they have at HQ, the police were wearing and carrying protective equipment, such as shields, and there were also old baton rounds and wooden blocks which the students were encouraged to use as projectile missiles.
"The idea was to create a full-on experience and in the process the students saw first hand how the police are trained to handle a range of volatile situations.
"In a field location, horses were brought in from another force and students were involved as mounted police swept the crowd back. They also saw what it's like when dogs are brought in.
"At the end of the day the group were given access to serving police officers and heard first hand what is involved in a range of roles, such as the dog service, traffic and firearms. For those hoping to pursue a career in the police service, this was really helpful.
"The whole day offered our students a fantastic insight and we are very grateful to Leicestershire Police for giving them this opportunity."
Pictured: (from left) Loughborough College students Sophie Dews and Georgia Haslam