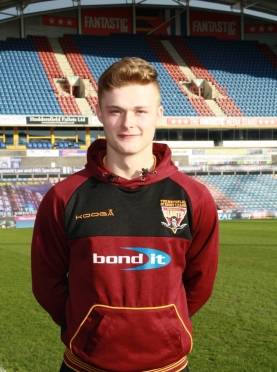 Loughborough College extended its sympathy to the family of teenage student and rugby player Ronan Costello, following news of his passing yesterday – and today pays tribute to the Huddersfield Giants academy star.
Ronan was injured during an Under 19's game for the side on Saturday. The match against the Salford City Reds was abandoned and the 17 year old centre was taken by air ambulance to Leeds General Infirmary.
Loughborough College has worked with the professional rugby league club for five years and Ronan, who was in his first year, was one of 22 players from Huddersfield's academy currently with the College.
Three young players based at Loughborough College's RFL Midlands Academy were also in Rawthorpe at the game on Saturday.
Loughborough College's Rob Payne, who is progress tutor for the young Huddersfield players and who had worked closely with Ronan, said: "His attitude towards the education and training from day one was spot on and he got stuck in without any issues.
"It is clear Ronan was on course to be yet another successful student athlete coming out of the Giants system. He was achieving distinctions across his assignments.
"Ronan was showing success on the playing field as well, being selected for every game - which for a first year player up against older, bigger, more experienced players is a great achievement. This shows the talent he had for the game as well as his hunger and determination to succeed.
"He said many times how excited he was to be at the Giants and how much he wanted to take every playing opportunity that came his way.
"Ronan was a confident, literate and well spoken young man who was a pleasure to have on the programme. He was smart both on and off the field so I have no doubt in saying that even if he didn't have a illustrious playing career he would have been successful in whatever he went on to do.
"The Huddersfield Giants, Loughborough College and the rugby league community has lost an intelligent, respectable, talented, mature gentleman and I am sure he will be a massive loss to all who knew him."
Heather MacDonald, Chief Executive and Principal at Loughborough College said: "We were devastated to hear Ronan Costello was in a critical condition following Saturday's accident and were deeply saddened today to receive the tragic news that Ronan had passed away.
"Our sympathy goes out to Ronan's family and our thoughts are with his teammates and his friends at such a difficult time."
Loughborough College works with the Giants Foundation Trust for the players' education element at the academy – including overseeing the programme and regularly meeting with the players one on one. All the academy players are enrolled as students with Loughborough College.
Ronan lived in Huddersfield and had successful spells at Brighouse Rangers and Lindley Swifts. In 2012 he scored 11 tries in a single game for Lindley against Doncaster Toll Bar. He was signed as an U16 player at Huddersfield before signing his first professional U19 contract with the club last summer.
Picture: SWNS