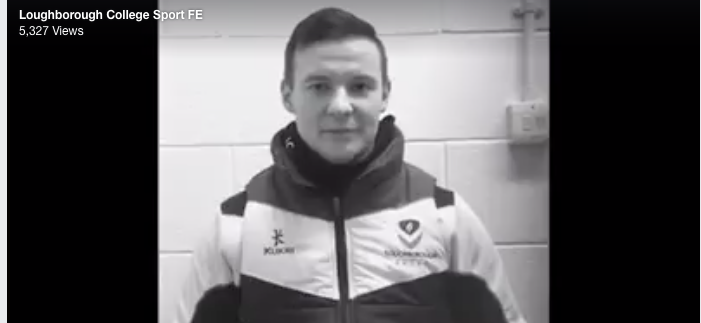 A short film designed to raise awareness of mental health issues produced by Loughborough College has been viewed by thousands of people.
The black and white video, produced by the Sport department, centres on the well known Rudyard Kipling poem 'If' and has had in excess of online 5,300 views.
Students and staff released the video after being inspired by the #itstimetotalk campaign which encourages the nearly three in four young people who fear the reactions of friends when they talk about their mental health problems to realise speaking to someone could make a real difference to their lives.
" I chose the famous Rudyard Kipling poem 'If' because to me Is about courage and strength and that is what it takes to talk about your mental health.
"This was something I cared about greatly as I have struggled with mental health troubles and I wouldn't want any of our students to think that they couldn't talk about it," said Jay Groocock, Loughborough College Football Academy Head Coach, who led on developing the film,
"We featured a series of staff members and academy students on screen, each delivering a line of this very moving poem to camera in the hope that it would inspire our students – and staff - and encourage them to speak about any mental health issues.
"It is really encouraging to see increasing numbers of people are viewing our video.
"In sport alone many people have suffered and continue to suffer with mental health troubles and the College Sport department wanted to take a stance and do what we could to help address the stigma associated with mental health."
According to Time to Change, led by Mind and Rethink Mental Illness, one in four people will experience a mental health problem in any given year and nine in ten with mental health issues experience stigma and discrimination.
Pictured Loughborough College's Jay Groocock appears on the video to raise awareness of mental health