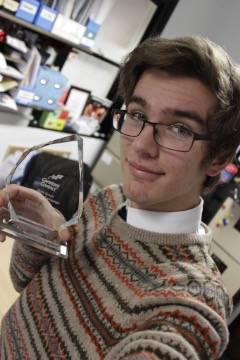 An apprentice from Loughborough College has scooped a top national award - and impressed bosses so much he has been promoted to manager.
Despite lining up against leading professionals from across the country, apprentice Liam Perkin has taken top spot for the year's Best Email Campaign and only nine months after joining Leicestershire company Revolution Digital was promoted to become Sales and Marketing Manager – all while continuing to study Business Administration at Loughborough College.
The 20 year old's campaign achievement was marked in the annual Digital Awards at the Promotional Products Expo, with his award sponsored by Constant Contact - who are marketing advisor to more than 600,000 small organisations worldwide.
"Revolution provide promotional printing services and also resell digital printers and I had an idea to promote that aspect of the business by relating it to gaming. This really seemed to appeal to tech users and was very successful.
"But I never imagined my campaign would win. I was up against really experienced marketers. I think the judges were also surprised, when they found out I was an apprentice," said Liam.
"It was also a shock to be told I was being promoted to Sales and Marketing Manager, after only nine months with Revolution.
"Loughborough College has been incredibly supportive. The course is really fulfilling, it feels like such a valuable qualification. I find so much I can apply to the business environment I work in.
"It is great to be able to expand my knowledge even further and to be in a managerial position which enables me to develop and implement more ideas for Revolution, to help and engage even more customers.
"I realized university wasn't for me. It appealed to me to start getting work experience and advancing straight away, alongside studying. For me an apprenticeship was definitely the right choice."
"The competition win is an outstanding achievement for Liam, particularly as the judges were not aware that he was an apprentice when they selected his work for the award - and he was in competition with some "heavyweight" e-Marketing experts.
"Liam's recent promotion to Sales and Marketing Manager show what an asset he has quickly become to his company during his continuing apprenticeship," said Gaynor Noon, Instructor and Trainer at Loughborough College.