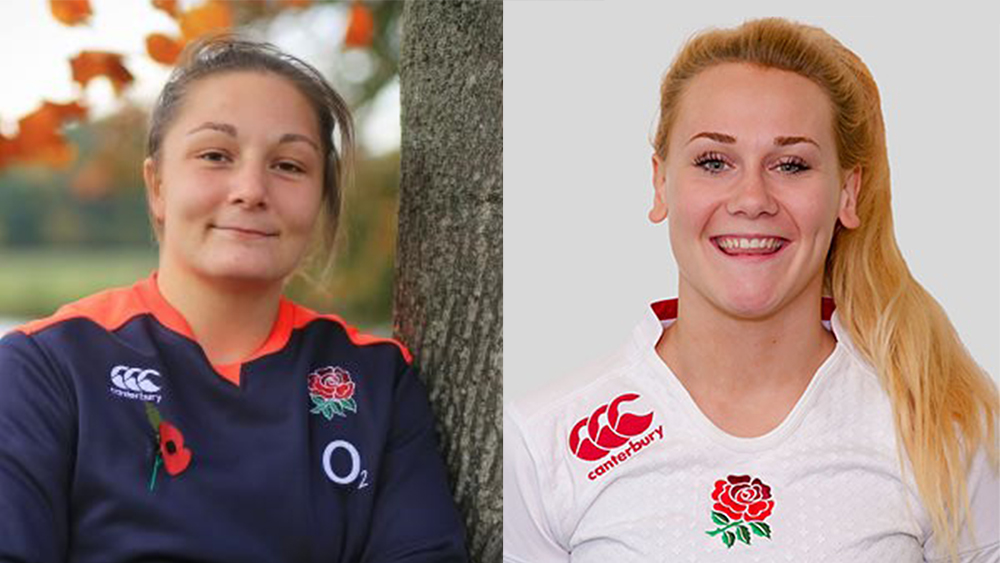 Loughborough College players are preparing to help England defend their title as they go head to head with New Zealand for the fourth time in Women's Rugby World Cup history for the 2017 final on Saturday.
Megan Jones and Amy Cokayne were selected to join the world champions and have played a key role in the squad making it three from three – against Spain, Italy and the USA - before the Red Roses saw off France in the semi-finals.
The final will be shown on ITV with England defending their title at the Kingspan Stadium in Belfast.
Fly half Megan, 20, who is studying for a degree in Sports Science with Management at Loughborough College, joined Team GB's women's side for Rio 2016 as rugby sevens made its Olympic debut.
After making it onto a shortlist of the world's most promising talent in rugby, England hooker Amy was named as The Scrumqueens 2016 Young Player of the Year.
The 21 year old, who is studying for her BSc in Sports Science with Loughborough College, was selected for the England Women U20 squad in 2014 and gained her first cap for the senior side in 2015. "For England to have two World Championship titles back to back would be amazing. Being so close to home for it all will be a real boost, to have the support of family and friends."
England won their opening 2017 World Cup game with a convincing 56-5 win over Spain. With her first touch of the ball, at just under a minute on the clock, Megan Jones scored not just the opening try of the game but of the entire tournament, while Amy Cockayne was amongst four England scorers to put the side past the 50-point mark in the second half in Dublin.
Amy was against amongst the scorers in England's second match, when they beat Italy 56-13.
Seven tries against the USA – including a try from Amy from a driving maul – produced England's third straight victory with the 47-26 win easing them into the semi finals.
England sealed their spot in the final with a powerful performance against France. Amy made a major contribution to England's defence with involvement in the 320 tackles that took place throughout the game. Megan meanwhile played a pivotal role with a try saving tackle on 12 minutes and a dramatic finish to the game with her scoring the final try on 78 minutes to take it to 20-3.
"We are delighted to celebrate the success of our two student athletes in their recent triumph against France in the semi finals of the Women's World Rugby World Cup," said Luke Gilbert, Loughborough College Higher Education Sport Curriculum Manager.
"It is testament to Amy and Megan's hard work and determination that they balance a gruelling training regime and performance at the highest level with the academic challenges of a degree.
"We take pride in affording our degree students the flexibility to study whilst pursuing their sporting dreams and both Megan and Amy have certainly displayed fantastic commitment to their sport, as well as to their studies, over the past two years.
"All of us at Loughborough College will be cheering on both players and the whole team on Saturday and wish England all the very best in their final against New Zealand."
Watch the Women's Rugby World Cup final on ITV on Saturday 26 August with kick off at 19:45
Pictured: Loughborough College students Amy Cokayne and Megan Jones – preparing for England's title defence at the 2017 Women's Rugby World Cup final