Posted: 26th May 2023 - 2:59pm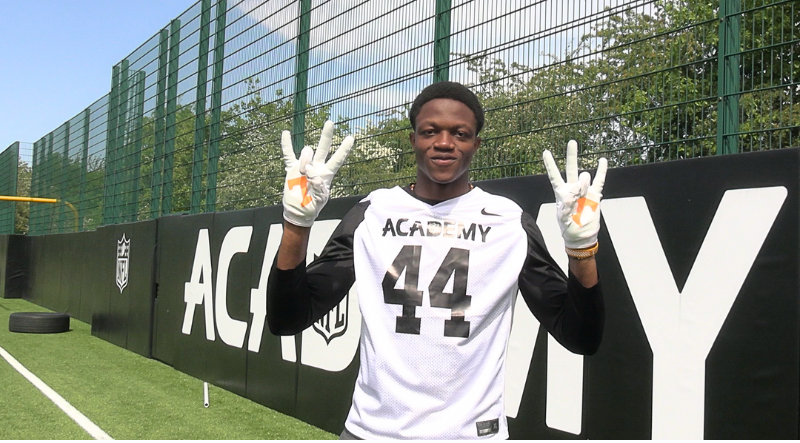 NFL Academy record breaker Emmanuel Okoye heads to a new adventure in America in June, after committing to the University of Tennessee's Volunteers American Football squad earlier this month.
From growing up a keen basketball player in Nigeria, to catching the eye of Superbowl champion and New York Giants legend, Osi Umeniyora at the NFL expansion into Africa, in Ghana, it's been a whirlwind of successes for Okoye, who then joined the NFL Academy last year.
This week we spoke to Emmanuel about his journey and heard more about his time at the NFL Academy here in Loughborough.
Emmanuel has honed his talents, learning lifelong lessons to take with him on his next steps to Tennessee. "It's taught me so much, like discipline. Being in this sort of environment has provided me with everything I have needed to get to the next level." Emmanuel says.
The NFL Academy, in partnership with Loughborough College and Loughborough University offers players a unique and valuable dual career pathway, ensuring that budding athletes receive a world-class education alongside elite sporting opportunities to give them the optimal prospects for their next steps.
"It's helped me to be more technical, taught me how to solve problems easier, how to take care of my body, how to be a better student and athlete," reflects Emmanuel. "And the education aspect is so essential, I've learnt time management, respect…so much,"
Looking ahead, Emmanuel is ready for the next challenge, "In five years' time I should be in the league...that's the dream! "
He credits his time in Loughborough for preparing him for a new chapter and offers advice to upcoming young players considering joining the NFL Academy, "if you need that development and the environment to get you ready for the next level, this is the best place. Be ready to work and be coachable, and hopefully, you'll make it to the next level, by God's grace,"
Emmanuel Okoye joins the University of Tennessee's Volunteers football squad for the 23-24 season, planning to enrol this summer.
To learn more about the NFL Academy visit the website.