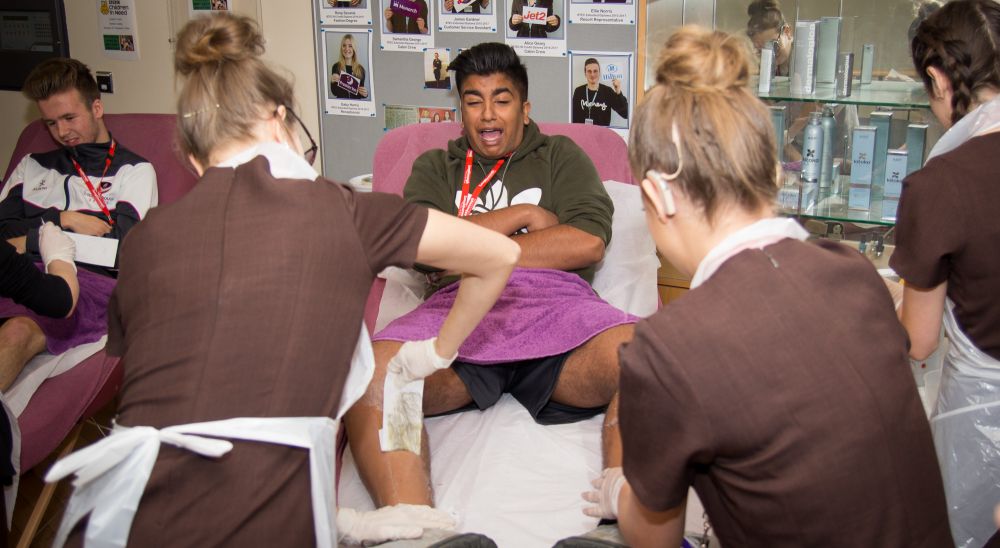 Loughborough College students smooth the way for charity
It was a case of hair today, gone tomorrow for Loughborough College males this week as Beauty students helped them smooth their way to boosting funds for Children in Need.
Sport students Kacper Rutkiewicz, Josh Thakrar, Declan Bryan and Josh Phipps lined up to say farewell to their fuzz with full leg waxes to benefit the charity.
Loughborough College beauty students reminded the four there was no gain without pain and ignored the screams to ensure they raised an outstanding £187.69.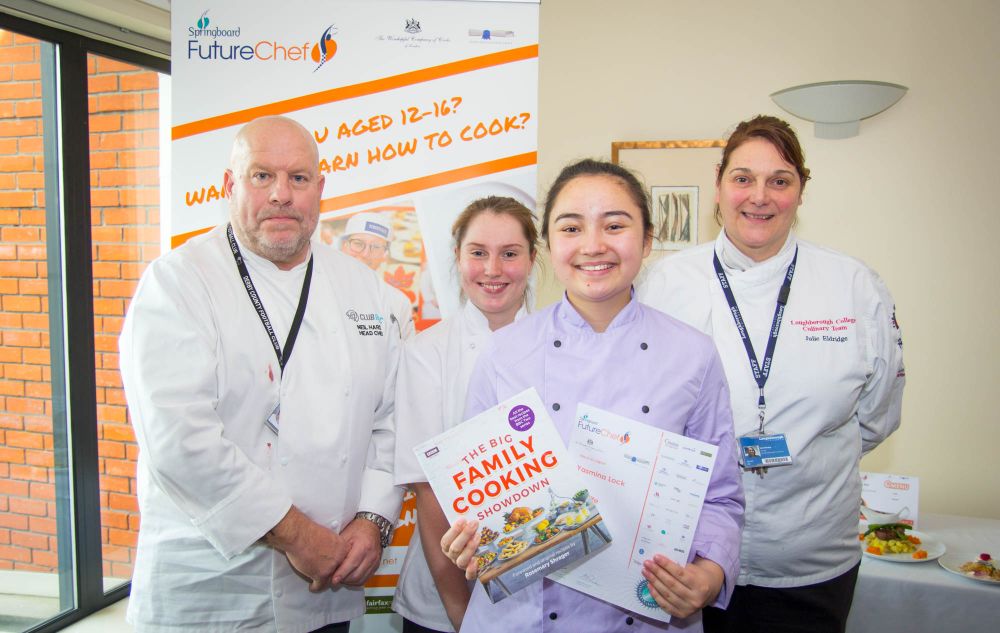 Talented young hopefuls compete for national culinary crown at Loughborough College
Talented young chefs went head to head at Loughborough College this week, taking one step closer to the chance to win a national culinary crown.
Eight hopefuls from local schools showcased their cooking skills at the Springboard FutureChef 2017 local heats final, with the hope of a place alongside winners from across the region, before a London showdown in the new year.
After 90 tense minutes during which competitors had to cook a main course and dessert for two with a budget of £7.00, Yasmina Lock was declared the winner.
Skills Minister Anne Milton visits Loughborough College
Minister for Apprenticeships and Skills, the Rt Hon Anne Milton MP, arrived at Loughborough College today to congratulate students and staff following their recent Good with Outstanding for Apprenticeships rating by education watchdog Ofsted.
The Minister was welcomed by the College's Chief Executive John Doherty, Chair of Governors Audrey Traynor and Director of Business Development Gemma Knott and was joined by Nicky Morgan, MP for Loughborough before meeting apprentices and students in action across the campus.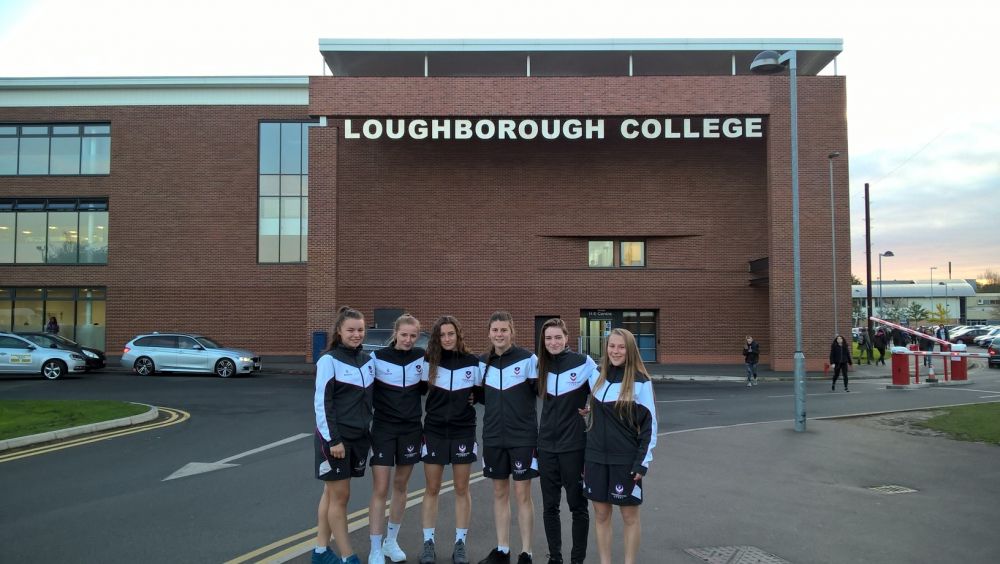 Loughborough College football players have England Colleges squad in sights
No fewer than six Loughborough College football players have reached the final trials for the England Colleges Women's squad taking place this weekend.
Success for Sport students Tiana Hicks, Serena Clarke, Ria Acton and Jodie Hutton together with Natasha Hudson and Jamey Brewster, who are both studying for A-levels at the College, offers the chance to represent the country in a series of international fixtures, including a tour of Barcelona.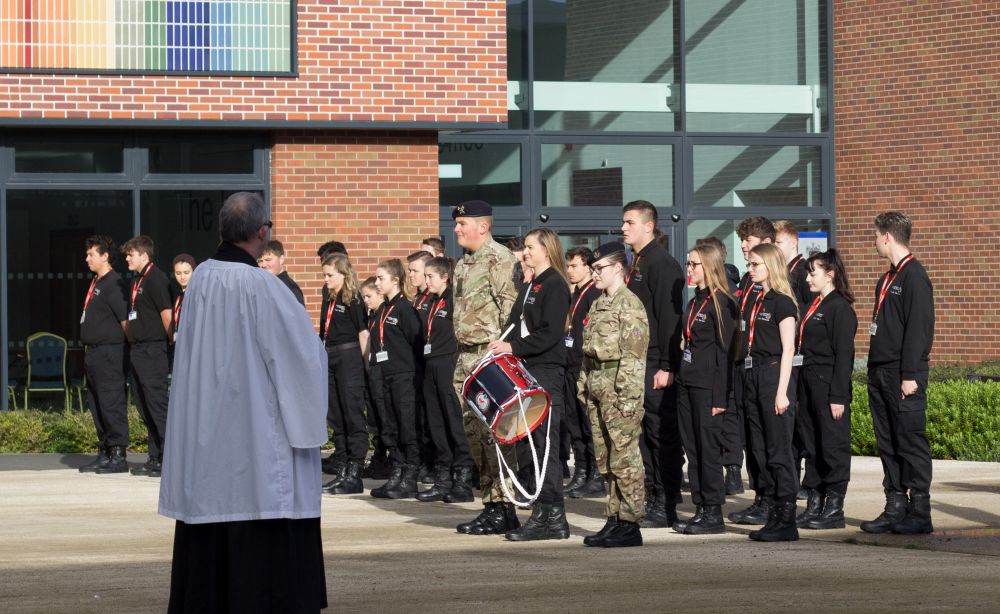 Students lead Armistice Day remembrance at Loughborough College
Loughborough College observed a minute's silence this morning in remembrance of service men and women who have lost their lives in battle.
To mark Armistice Day, Public Services students and staff paraded into the centre of campus where the College came together for an outdoor service led by the Chaplaincy.
Poppies were sold across campus this week, reflection cards displaying a poppy and the words 'We will remember' were completed by students and staff and a special Remembrance memorial board displaying the cards and artwork became the centerpiece of today's service.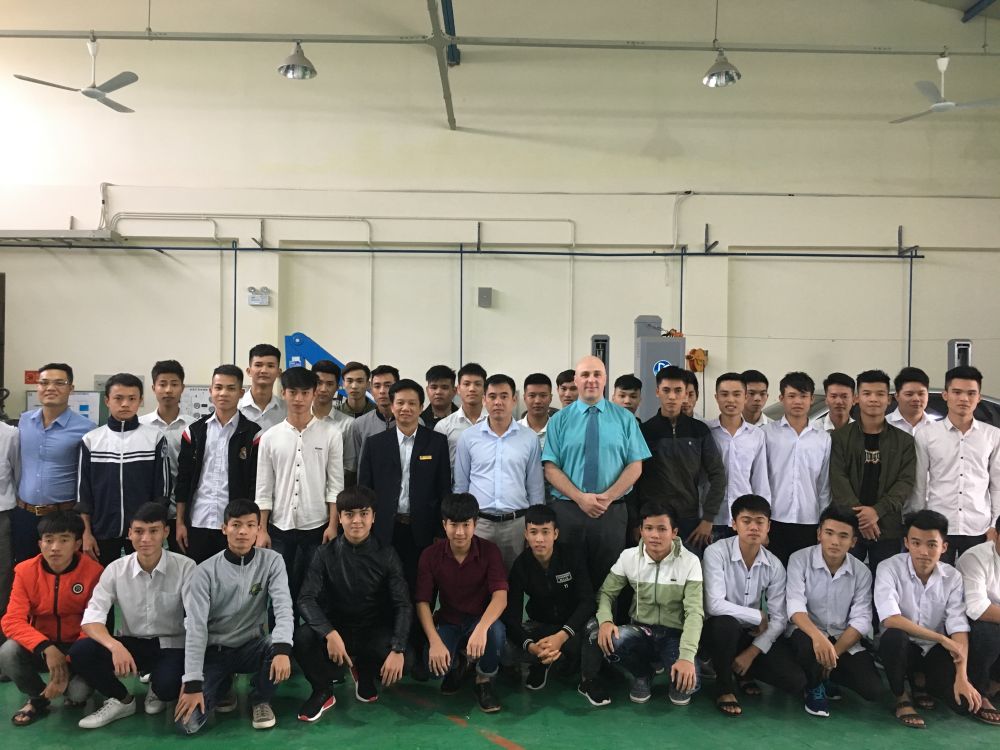 International success builds for Loughborough College in Vietnam
International partnerships have been given a further boost this week with a Loughborough College visit to Vietnam.
A pioneering International Skills Partnership project created by the College and funded through the British Council has seen the College assist educators in the country with successful quality assurance and host Vietnamese partners in Loughborough.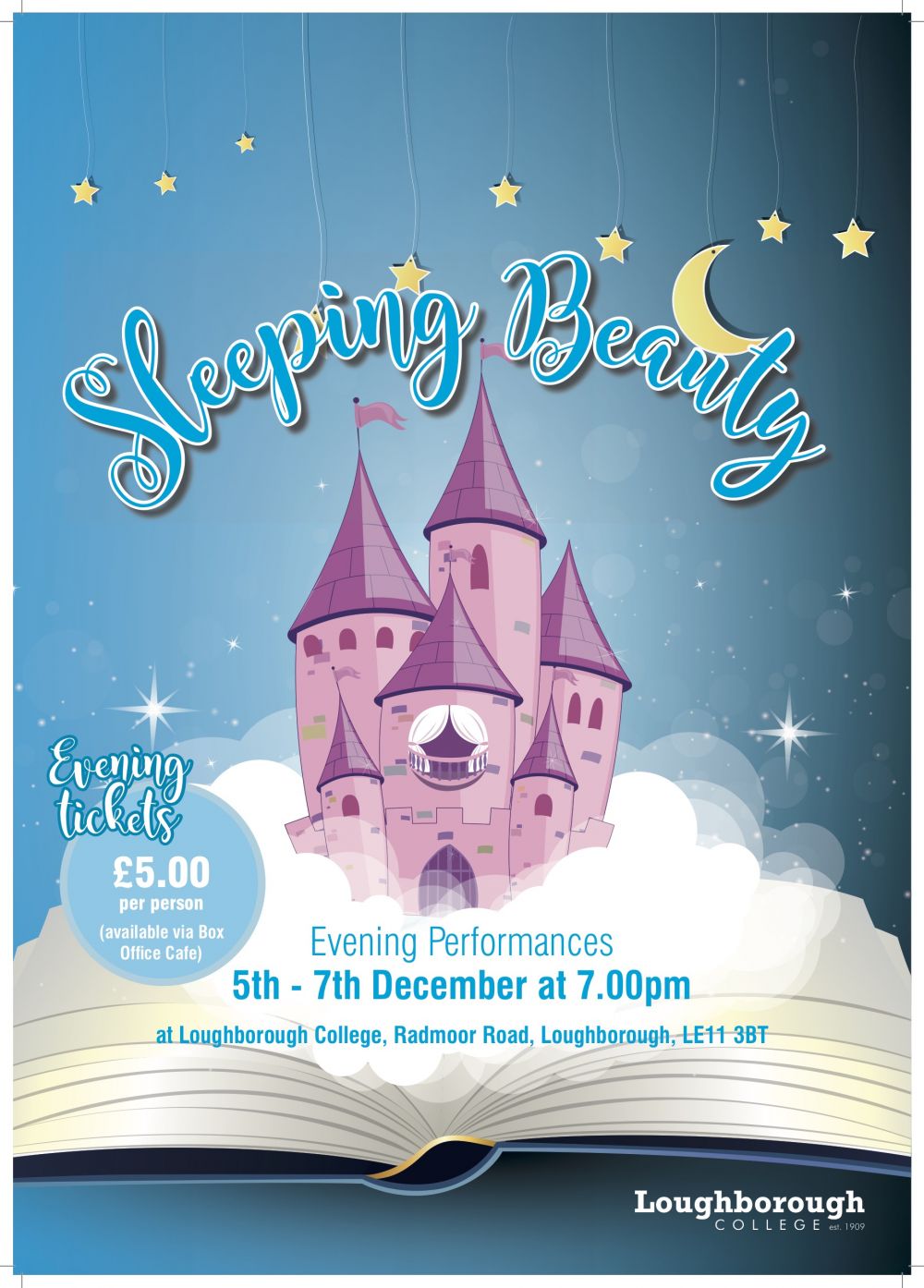 Panto set to delight with family fairytale favourite at Loughborough College
The enchanting tale of Sleeping Beauty is set to surprise and delight panto fans of all ages at Loughborough College.
There will be heroes to cheer and villains to boo and even a teddy bear in this exciting and hilarious re-telling of the classic – with hits from Michael Jackson, Gwen Stefani and Vanilla Ice amongst a host of sing- alongs.
Super league signing for Loughborough College rugby player
A Loughborough College rugby player has been given a contract which will see him join Super League runners up Castleford Tigers.
Will Tully, who is part of the Midlands Hurricanes Regional Academy at the College, impressed in the England Under 18s community Lions series against Wales this year where he scored in both and was nominated as Man of the Match against Scotland U19s.
There was interest from other Super League clubs but the young player opted to sign for the Tigers academy squad and will commence training with them this November, ahead of their 2018 campaign.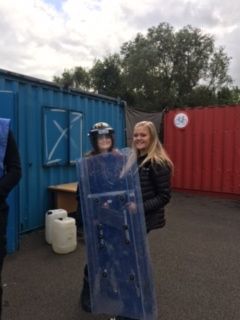 Police ask Loughborough College students to 'riot'!
Police have been encouraging Loughborough College students to 'riot' – as part of a major training exercise.
Public Services students faced mounted police and dogs and bombarded Support Unit officers with missiles during a series of simulations at Leicestershire Police Headquarters.
"This was a rare and extremely valuable opportunity for our students when they were invited to join the Unit at Enderby," said Loughborough College Public Services lecturer Fiona Strang.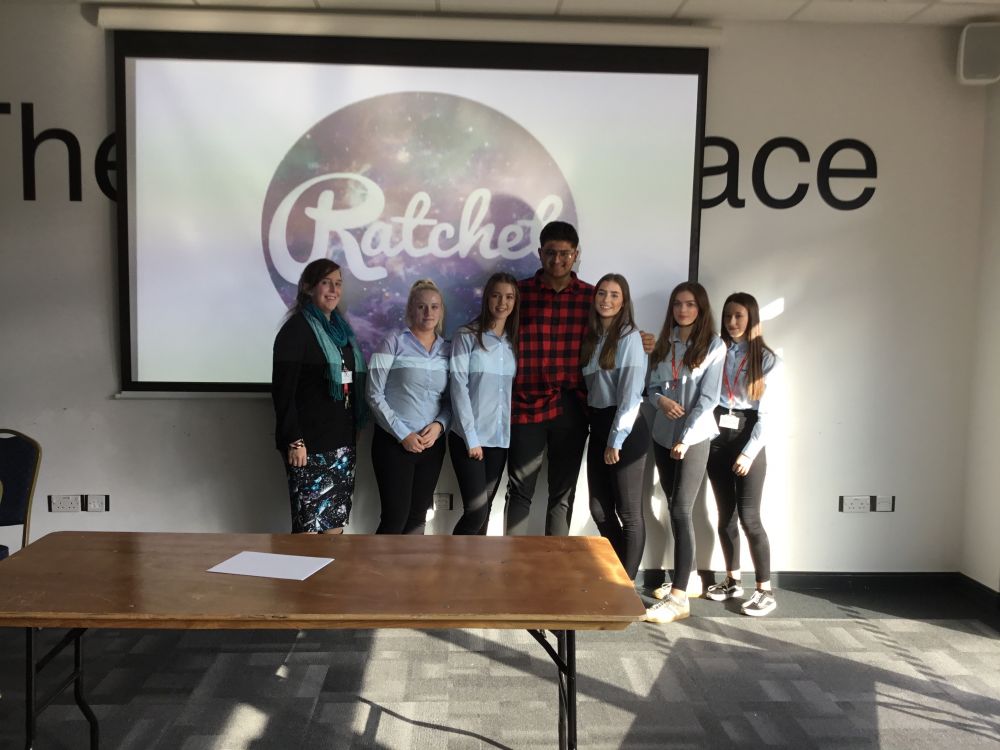 Clothes designer to the stars inspires Loughborough College students
A young designer who has produced clothes for stars including Taylor Swift, Drake and Rihanna has been giving inspiration and guidance to students at Loughborough College – and revealing an unexpected, exclusive prize.
Dhillan Bhardwaj, who set up Ratchet Clothing when he was 16 and was a millionaire before he was 20, has built up a client list that reads like a who's who of the world's biggest entertainment celebrities – even David Cameron received a selection of his clothes when Dhillan and his family were invited to meet him.