All residents have full access to communal areas complete with TV, Xbox and outdoor spaces for picnics and BBQs. Halls are non-smoking and we ask that you smoke in the designated areas provided.
Layouts range from six person units with a shared shower, toilet and kitchen to five/ six bedroom units with en-suite bathrooms. We also have rooms adapted for disabled students and all study bedrooms have access to wi-fi. Shared kitchen amenities include cookers, microwaves, fridge/ freezers, kettles and storage space. You will be expected to provide your own utensils, crockery and cutlery.
Our accommodation has everything you'll ever need to feel happy and settled whilst studying at Loughborough College. We have experience helping thousands of students who choose to move away from home and our Accommodation Team are on call 24 hours a day.
Our halls of residence are a five minute walk from the College, Students' Union and town centre making student living easy and convenient. Situated on campus, all halls are self-catering. We are able to offer a total of 181 single bedrooms in purpose-built, modern halls, including a block specifically designed for under-18s.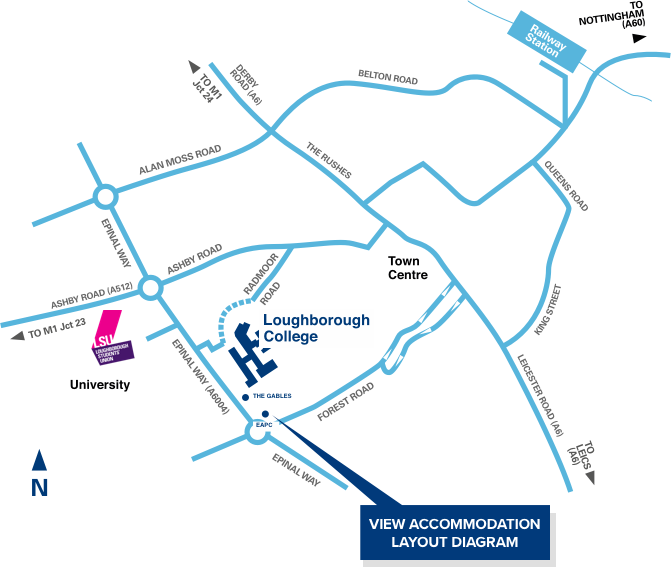 Ofsted confirms we are 'Outstanding' for providing exceptional care, support, leadership and experiences to students staying in our halls of residence.
Read the Report >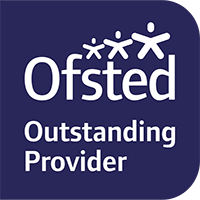 WHY STUDENTS CHOOSE OUR
ACCOMMODATION
Our accommodation was rated Outstanding by Ofsted in November 2021
We are accredited by ANUK/Unipol
Five-minute walk from the college and Students' Union
Ten-minute walk from the town centre
Separate accommodation for our under 18 students
Tours of our accommodation are available at our open days. Book your place at an open day now.
---
---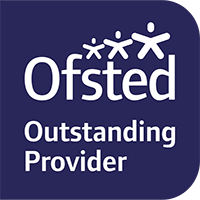 The Accommodation Service Team are able to give information, advice and guidance on any accommodation related enquiry. They are happy to provide details of availability in College allocated Halls of Residence, as well as give guidance regarding accommodation contracts, payment plans and specific accommodation requirements.
CONTACT THE ACCOMMODATION TEAM:
Phone: 01509 515435
Email: accommodation@loucoll.ac.uk
Fax: 01509 618109 (or 00 44 1509 618109 if faxing from overseas)
The thing I like most about living in the college halls is that it's very welcoming and everyone looks after each other.
Living in halls provides all the facilities a student needs for getting used to living far away from home. I've made a lot of new friends, I have a great kitchen to cook in, a great room where I can study and everything I need.
elite athlete
performance
centre
The Elite Athlete Performance Centre (EAPC) is a beautifully restored, listed building that provides a total of 17 en-suite rooms for elite sports students under the age of 18.
Refurbished to allow for student living, facilities include an expansive living space, shared kitchen, and free laundry amenities.
Room sizes range from standard to large, with costs varying accordingly, and you will have access to the communal student areas based on the grounds.
BUILDING
A BLOCK


(Shared Bathrooms)

B BLOCK


(Under 18's)

B BLOCK PREMIUM


(Under 18's)

C BLOCK
(Under 18's)
C BLOCK PREMIUM
(Under 18's)
ELITE ATHLETE
PERFORMANCE CENTRE
SINGLE


(Under 18's)

ELITE ATHLETE
PERFORMANCE CENTRE
DOUBLE


(Under 18's)

ROOM TYPE
EN-SUITE
SELF CATERING
INTERNET ACCESS
WEEKLY FEE
£105.00
£123.00
£127.00
£123.00
£127.00
£130.00
£135.00
TOTAL ANNUAL FEE
£4515.00
£5289.00
£5461.00
£5289.00
£5461.00
£5590.00
£5805.00
Please note: Contracted period is for 43 weeks for all halls of residence accommodation.
Premium rooms have newly refurbished bathrooms.
STUDENTS WHO ARE 18
AND OVER
New to 2023 / 2024, we have a number of options available to our Over 18 students.
Luxurio Loughborough
Get £200 when you book with Luxurio! Use promo code LUX200COL
AMENITIES
24 HOUR RECEPTION/SECURITY
AC/HEATING IN EVERY BEDROOM
43" SAMSUNG TVS IN EVERY BEDROOM
PRIVATE DINING ROOM
STUDY ZONE
GAMES AREA (XBOX/PS5, TABLE TENNIS, FOOSEBALL & POOL TABLE)
MORSIA GYM & FITNESS STUDIO
COURTYARD
CINEMA ROOM
250 MBps WIFI & 1GBps WIRED
WEEKLY EVENTS
FREE - PRINTING/KITCHEN CLEANS/BIKE RENTAL
Please click the following link to book: BOOK NOW
For any further sales questions or support please email - megan.sampson@futuregeneration.com. Or speak to our lovely site team direct on 01509 323644.
Student Beehive
The Kingfisher residence, a stone's throw away from The Gables and 'The Block' located in the town centre and a 5-minute walk to the college.
Student Beehive boasts:
En-suite bathroom
Double beds
High Spec Kitchen
On site Gym
24-hour warden
Bike Storage facilities
Fully Loaded common room with a pool table and 65" TV with free Netflix
Free Washing and Drying facilities
Newly installed high speed WiFi network
Hot tub and BBQ area
https://studentbeehive.co.uk/locations/student-accommodation-loughborough/kingfisher-halls
https://studentbeehive.co.uk/locations/student-accommodation-loughborough/student-block
If you choose to stay with Student Beehive, not only will you have access to a range of facilities and their supportive and friendly staff, you will also still have access to the main gables site common room, our 24/7 staff and outstanding 24/7 wellbeing support.
For more information about Student Beehive, please click on the link to their website for contact details https://studentbeehive.co.uk/accommodation-contact .

---
How to apply for accommodation for 2023/2024
To submit your interest in accommodation for September 2023 please email accommodation@loucoll.ac.uk.
What happens when you have submitted your on-line application?
You will receive an email acknowledgement of your application

The Accommodation Service Team will reserve a room for you

You will be sent an 'Accommodation Offer Pack' as soon as the provisional allocations have been approved and allocated. The offer packs will be sent out in June and will include:

Accommodation Allocation Notice 2023/2024

Accommodation Licence Agreements (Contract)

Emergency Contact and Guarantor Declaration Form

Halls of Residence Handbook 2023/2024

Medical Registration Guide 2023

New Patient Registration Form

NHS GMS1 Form

When you receive your offer pack it will include instructions on how to accept the Accommodation Offer which will require you to return signed and completed documents and make the deposit payment to secure the accommodation
We look forward to welcoming you to The Gables!
Loughborough is a thriving university town giving students access to a great range of restaurants, entertainment and shopping. Loughborough College students are members of Loughborough Students' Union, giving you full access to everything it has to offer.
FIND OUT MORE
---
THE GABLES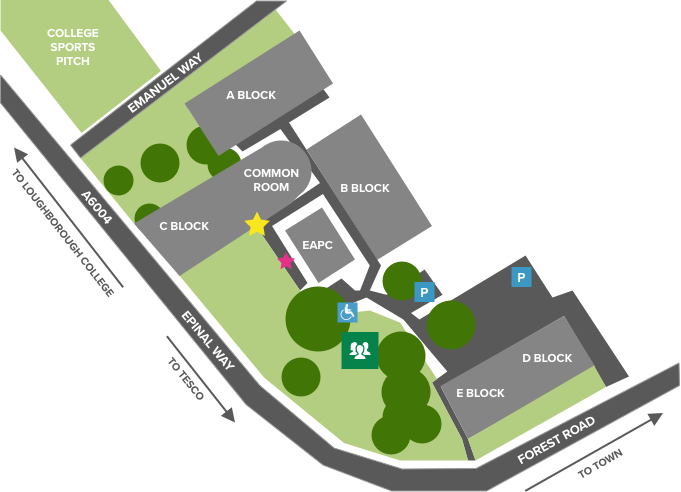 | | |
| --- | --- |
| A Block | 36 single rooms with washbasin & shared shower room in 6-bed flats |
| B Block | 30 single en-suite rooms in 5 & 6-bed flats |
| C Block | 34 single en-suite rooms in 5 & 6-bed flats |
| D Block | 35 single en-suite rooms in 5 & 6-bed flats |
| E Block | 35 single en-suite rooms in 5 & 6-bed flats |
| EAPC | 6 large single en-suite rooms & 11 single en-suite rooms |
| | Site office |
| | EAPC office |
| | Parking |
| | Fire Assembly Point |
| | Disabled Parking |
Our halls of residence and homestay also accommodate students aged under 18. All students living in our accommodation have access to a range of social activities and support from our wardens 24 hours a day, seven days a week, ensuring that your time at Loughborough College is a safe and enjoyable experience.
Our accommodation for under-18 students has been inspected by Ofsted for compliance to the National Minimum Standard for Accommodation of Students Under Eighteen by Further Education Colleges, under Section 87A of the Children Act 1989 as amended by the Care Standards Act 2000.
Soon after your arrival, an initial assessment will be completed to establish the support that can be offered to assist your independent living skills development. The college staff will work with you and track your positive improvements.
Regular progress reviews will be made during the academic year, but should you need assistance with your independent living skills at any time, don't hesitate to contact the Accommodation Team, who will be happy to support you.
---
---