Reporting Absence
If you will not be attending college when you are due to attend, you must report this through your ILP.
Log in to your ILP, and Select Submit Absence Request from the Personal Information menu at the top of the screen.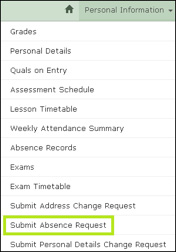 On the following screen, complete the following fields.
| | |
| --- | --- |
| Date From | First day you will absent |
| Date To | Last day you expect to be absent |
| Mark Type | Must be Justified Absence |
| Reason | One option must be selected, which may be Other if there is no suitable option |
| Notes | Further details of reason for absence. Must be completed |

If you are absent for full days, you can leave the time blank. If you will only be absent for half a day, you can specify Time From and Time To. This uses a 24 hour format, so 1pm would be 13:00.
The notification of when your request has been processed will be sent to your college email address.