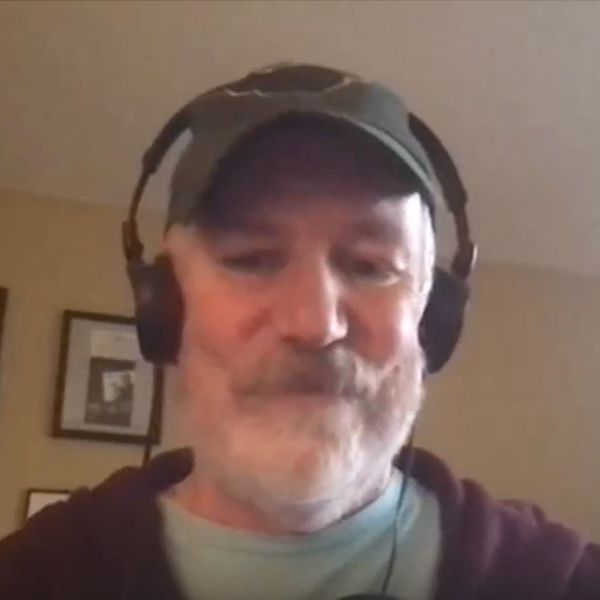 Cult American writer and performer Bill Corbett gave an exclusive, live interview to Loughborough College students as part of their performing arts programme.
Bill was a writer and actor on the cult television show Mystery Science Theater 3000 for which he voiced the robot Crow T. Robot during the show's later seasons on the Sci Fi Channel. During that time, he also played the character Observer, along with other minor roles.
He spent nearly an hour fielding questions and providing insights into breaking into the industry, developing ideas, the importance of getting a formal qualification behind you and the range of talents he developed to land acting and writing roles over the years.
Student Saffron Oliver said: "It was useful to hear about a professional's experience in the industry and hearing about screen, which is something I am interested in doing."
Emma Lowe: "It has really opened my eyes about what life in the industry could be like in the future. Following Bill Corbett's advice I am going to focus on my dream of going to drama school as this is something that helped him get started in the industry."
Lucia Pingue: "I found it very interesting finding out about different aspects of the performing arts industry. It was a good insight into how performers have to work in multiple fields."
Emma Ledsam, Creative Arts lecturer, invited Bill to speak to students after becoming friends with him via Twitter. "I got to know Bill over the years and contacted him through Twitter to request a Q&A and was surprised and delighted that he agreed," she said.
"Bill's experience as a playwright, screen writer, performer and comedian makes him an interesting practitioner to talk to. Bill has also produced and participated in a number of podcasts both factual and radio comedy/drama.
"The aim was to show students the different avenues into performing arts and performance making as part of our enrichment programme."
The header image was originally posted to Flickr by clubizarre at https://www.flickr.com/photos/8054996@N07/2710412617. This file is licensed under the Creative Commons Attribution 2.0 Generic license.