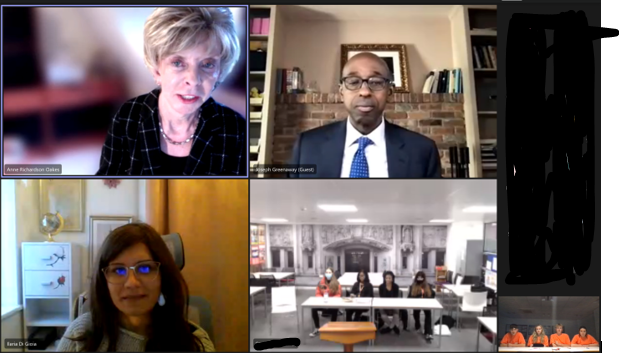 Law students from Loughborough College went head-to-head with US federal judge Joseph Greenaway and American students in a first-ever transatlantic debate about the death penalty.
Four A Level Law students worked with other Year 13 students from the college to prepare for the debate, research statistics and practice their arguments for a debate against the 8th amendment of the US Constitution.
Alicia Smith, Declan Warren, Alex Cheeseman and Catherine Callaghan joined Judge Greenaway and students from throughout the USA for the Zoom debate at the start of November.
Alicia said: "Being able to argue a position that I also strongly believe in was a very exciting experience for me. It gave me an insight into the tasks that would be expected of me as a barrister, which is a career I hope to pursue. Overall, I had a great time and I am glad I had the chance to do it."
Declan added: "I found it really enjoyable to work with a good team and to come up with the answers we did was great, it felt as a team we worked well together." 
Catherine said: "As a team we built a debate which we presented to the judge who then gave us helpful and knowledgeable feedback. I was personally honoured and proud to be a part of this enrichment and will carry forward this opportunity into the future, hopefully being able to use these skills in a court one day."
Judge Greenaway praised the College team's approach during the debate, from which no clear winner emerged. He said: "The 8th amendment discussion was particularly interesting and it speaks to a concern that we all have and it speaks to us all because what happens when we get it wrong?
"The fact that if even one person is put to death is enough reason to debate this – the reasons put forward toward were very convincing to revoke the death penalty."
The transatlantic debate was organised by Corrine Gardner and Hannah Johnson, Loughborough College lecturers.
Corinne said: "Although no winner was declared, the students worked very well together to put forward the most competing argument for a change to the 8th amendment.  The presented their argument clearly, accurately and with confidence and statistics that could not be denied.  They showed a fantastic level of team work and it has helped them develop skills for higher education and beyond."
Jo Maher, Principal & CEO of Loughborough College, said: "It is wonderful that our amazing students could access this invaluable enrichment opportunity with us. It is crucial for young people to debate live issues and to develop knowledge and understanding of different cultures as part of their course. Well done to everyone involved in setting up this incredible opportunity and to the students for their diligence in researching and participating in such an important debate."