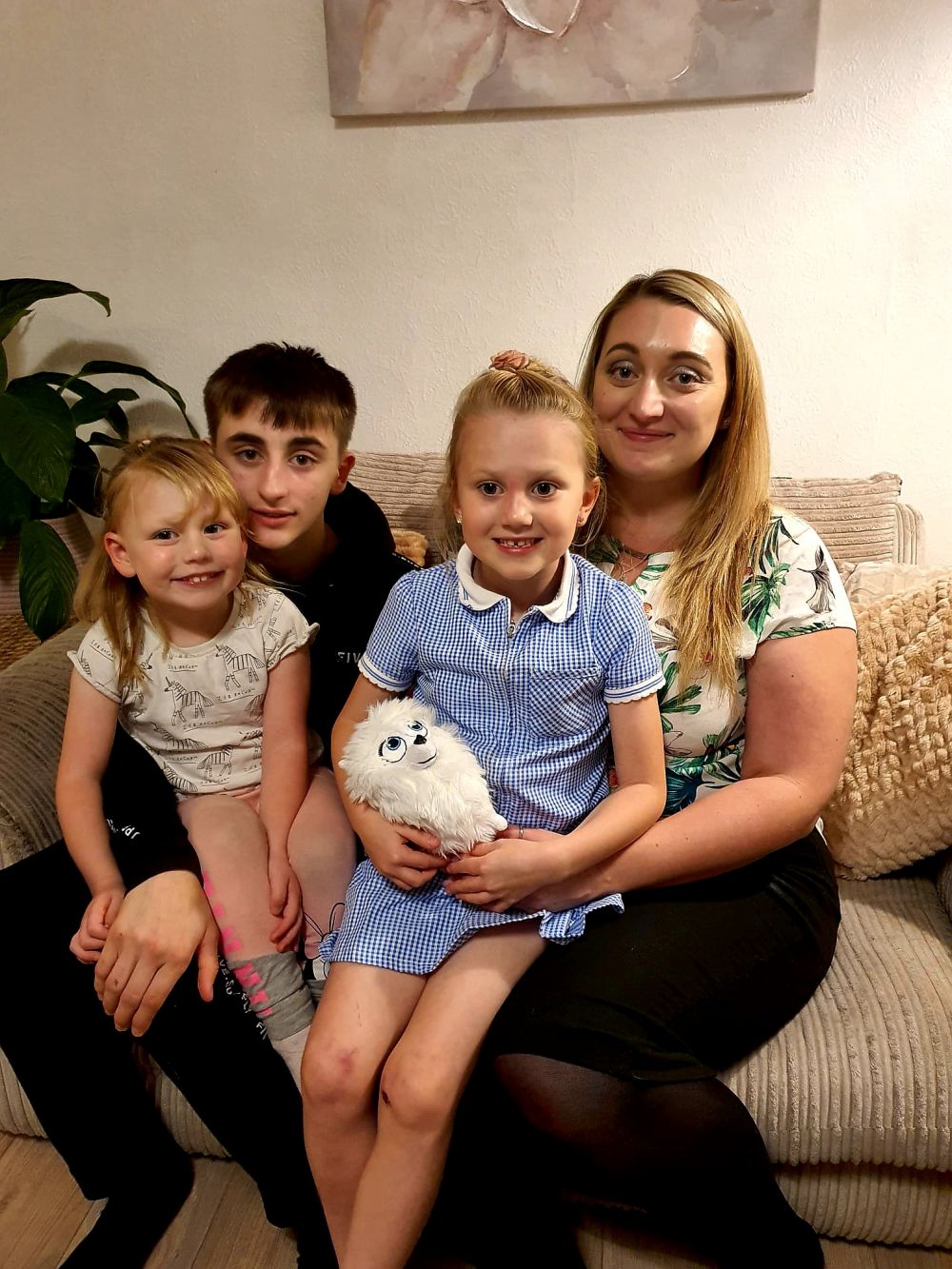 A mum-of-three is celebrating graduating with a foundation degree in business from Loughborough College - after making a bet with her teenage son.
Hayley Young, 33, of East Leake, said she applied to do the course after her 15-year-old son Cyrus challenged her to learn something new as she gave him a pep talk about his GCSEs.
"At the time, my son was struggling in school. He didn't want to do some homework and we had a bit of an argument when he said 'when was the last time you learned something new?'. He had a point," Hayley said. "So I said, we'll learn together and support each other, I'll go and do a degree and you do your GCSEs."
Hayley chose to study a foundation degree in business management and leadership at the College where she works four days a week as a senior administrator and so that she could support her partner who runs his own electrical engineering business.
The first year of the course was manageable, but when Covid hit she ended up having to juggle parental duties for her children – aged 3, 5 and 15 - and study with work, home-schooling and challenging for a national enterprise contest.
She said: "The second year of remote learning was tough. I didn't like it. I was jugging home-schooling the kids with working, studying and everything else. I had the work laptop open on one side of the table and the uni laptop open on the other side. My partner worked away so it was just me for most part.
"I haven't always been the most organised, but through the pandemic I had to become very, very organised. I had charts and planners up everywhere and stuck to that. Looking back, I'm not sure how on earth I managed it all! But when you want something enough you figure it all out."
"I did very early mornings and very late nights. It was the only way. Sometimes I was up at 5am and wouldn't go to bed until 1am or 2am."
She added: "I'm so surprised that I somehow managed to juggle what I did. I'm not particularly academic. It was incredibly challenging, but because I've had such great support, it's not been as hard as I thought it would be. But I am proud of myself."
Despite her various challenges, Hayley and her team also finished second out of 150 entrants in the UK Young Enterprise National Championships 2021 with her creation called Rising Souls – a shoe which can switch from glamourous high heels to comfortable flats in seconds.
All of her hard work has paid off and she is now set to begin her top-up year with the aim of qualifying with a BA(Hons) degree in Business Leadership & Management.
Hayley added: "I joke when I say I don't know what I'm going to do when I grow up! But with a degree under my belt, it will give me more options for the future. I love my current job, don't get me wrong. But it opens up opportunities."
Hayley said the support she received from the College's HE team and colleagues was exceptional. "I was very lucky that my lecturers were so understanding and supportive of my circumstances," she said. "They checked in regularly and I got extensions on most of my work when required."
Iqbal Ullah, lecturer and course manager for the Foundation Degree in Business Management, said: "We are hugely proud of Hayley, as we are of all of our learners. However, Hayley in her challenging circumstances has demonstrated exceptional levels of resilience, determination and grit
in not only achieving excellent standards of academic output, but also supporting her peers in adapting to college life.
"In some ways she has helped me to become a better educator through her regular demands for more clarity, and this has pushed me to think more creatively when I plan learning interactions. Hayley is a brilliant example of a higher education learner in a further education environment who has taken full advantage of the focussed support and nurturing we are able to provide at the college."
Chris Cockerton, Dean of Higher Education at Loughborough College, said: "Hayley has been a real asset to the department during her time studying with us. Not only does she balance studying with parenting and work commitments, she has been incredibly valuable as a Student rep and Student Governor. The feedback that Hayley has provided us has been invaluable as we strive to continuously improve every aspect of our delivery and the student experience. Her attitude to her studies and helping her fellow students is first class and we all wish her every success for her final year."