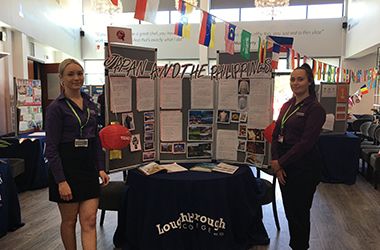 Holidays abroad may still seem like a pipe-dream - but it didn't stop Loughborough College students 'selling' destinations and raising cash for charity during a special event.
A total of 35 Level 3 City & Guilds Travel and Aviation students formed two 'companies' and went head-to-head to sell European and global holiday hotspots to each other as part of their course.
The teams were tasked with researching facts and information about countries around the world then creating stands in the College's Radmoor restaurant to present their 'package holidays' during the two-hour event.
At the same time, the teams held a raffle to raise nearly £140 for Mind in recognition of the impacts that lockdowns and restrictions have had on the population's mental health over the last 15 months.
Tutor Deborah Spiers said: "I am so proud of each and every student. It was great to see them throw themselves into their roles. They didn't just organise the presentations, they also organised the entire event as part of the programme. They even formed committees and appointed roles within the committees such as finance, sales and event directors.
"The professionalism they showed was outstanding. They'd taken everything on board that they've been taught – from the way they presented to the depth of information they researched.
"Raising that amount for a charity was also outstanding. They were so passionate about the subject because of everything they've been through this last year. That blew me away."
Organising an event and presenting form part of the curriculum and equips students with skills that are vital in the tourism industry such as knowledge of different countries and their history; knowledge of different airports and the airlines that serve them plus communication and presentation skills.
In addition to presentations, students also arranged games and quizzes to engage their 'customers'.
Georgie White, 17 of Birstall, is a Level 3 Travel and Tourism student. She said: "The event was amazing as we were able to show off our displays to other students and staff which we haven't been able to do before because of Covid restrictions. Now they've started to ease, we've were able to be on site more and I've loved it. Having face to face human interaction with lecturers and class mates helps me learn better. 
"My lecturers throughout the course have been amazing and they are so approachable that I know if I had an issue I could go see one of them and they would try their very hardest to make it better. They really supported us through the first year making sure that we have been okay while online, and even now we are in college they have remained supporting us in every way they can.  I am very excited for my second year at the college and hope its everything like my second half of first year and more."