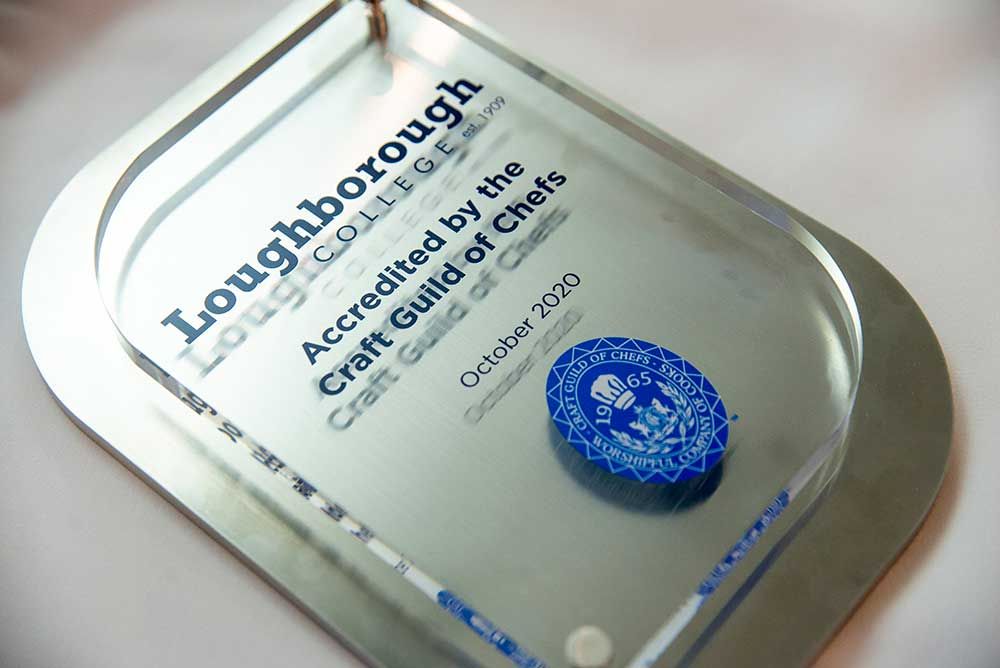 The Radmoor Restaurant at Loughborough College is one of the country's best for quality and standards – it's official.
The restaurant team was presented with a special plaque by the prestigious Craft Guild of Chefs after the Radmoor successfully passed strict requirements to join the Guild's College and University Accreditation scheme.
Guild assessors, David McKown MBE and Rupert Rowley, presented the plaque at a special Covid-secure ceremony held at College in December.
Darren Creed, the restaurant's head chef and curriculum manager, said: "It is fantastic to see this plaque above our kitchen. It's a terrific reminder to every one of our students of the high standards we set for ourselves and our expectations.
"It is not easy to achieve this accreditation so I am extremely proud of everyone at the College who worked so hard to make it happen."
The Guild's scheme was launched in July 2020 and to achieve the accreditation, College lecturers and students were interviewed and skills training sessions were observed to ensure they met the high standards required by the Craft Guild of Chefs.
Accreditation means Loughborough College can tap into the Guild's expertise and network of chefs to boost the quality of learning. It also means the College can get access to high profile chefs who can be asked to become guest speakers and College Patrons.
Find out more about our hospitality and catering courses here.