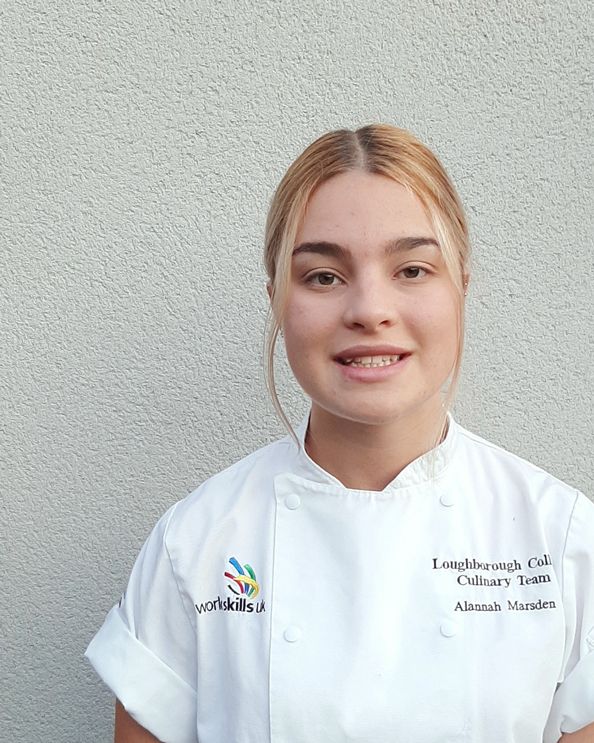 A talented trio from Loughborough College will go head-to-head with the UK's brightest students in the national final of a tough skills competition.
Health and social care student Grace Burton and hospitality students Alannah Marsden and Sam Watkins have been selected to represent the College in the national final of WorldSkills UK between 9th-19th November 2021.
Grace, 17, will compete in the health and social care discipline, Alannah, 19, in the Confectionary discipline and Sam, 17, in Culinary. They are up against seven other contestants in each of their finals.
Winners will be crowned at a ceremony hosted by TV presenter Steph McGovern from her Packed Lunch studio on Friday 26 November.
Grace, from Loughborough, achieved an overall A* in her Cache Level 3 Technical Certificate in Health and Social Care and has now enrolled onto the Extended Diploma in Health and Social Care.
She said: "I am so thrilled to be a WorldSkills finalist at nationals and so proud of how far I have come since the start of College.
"My anxiety is something I struggle with on a daily basis. I was anxious to start the WorldSkills process and was unsure of whether or not I would succeed. I am so glad I pushed myself to take part and worked hard at each stage. To now think I am going to be competing in a national competition against many other brilliant young people is amazing. I can't wait!" 
Sharon Geary, Curriculum Manager for Caring Services at the College, said: "I feel extremely proud of Grace's success as I've watched her gain in confidence since she started with us in September 2020.
"She really struggled throughout the pandemic and coming back into College has been a real challenge for her. The fact that she then flourished and went on to enter the World Skills qualifiers was astounding. Entering this competition has given her a huge confidence boost and from qualifiers to local and now getting through to the Nationals is just incredible."
Darren Creed, Curriculum Manager for Hospitality, said: "It's a fantastic achievement and a brilliant competition to take part in. I love any contest that puts our students up against other colleges, especially when it aims for a world standard. It's a great achievement for Alannah and Sam."
Jo Maher, Principal and CEO at Loughborough College, said: "I am so proud of every one of our students for reaching the final of this incredibly challenging national skills competition. It's a fantastic achievement.
"I know how hard it is to reach the final of WorldSkills UK having worked with them in a previous role. It requires a lot of character and skill and our students have demonstrated that in the qualifiers. Simply by competing supports students in learning life-long, world-class skills which will enhance their career opportunities in future. We wish Team Loughborough every success in the final."
There are 400 students and apprentices competing across 64 disciplines in the national WorldSkills UK competition.
The WorldSkills UK competition-based development programmes are designed by industry experts and enhance the practical skills and knowledge taught on training courses by assessing an individual's employability attributes against set criteria in a competitive timed environment.
For more information on WorldSkills UK, visit: https://www.worldskillsuk.org/