Posted: 10th February 2022 - 10:48am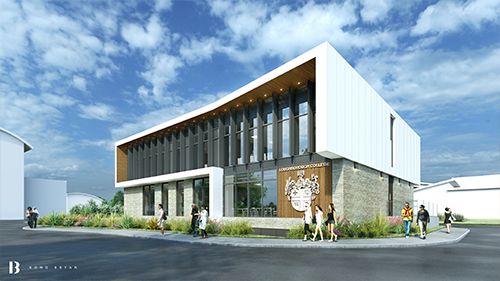 The foundations and skeleton of a new £2.8m T-Level Centre are now in place as Loughborough College prepares to launch a new generation of qualifications in September.
The College's new state-of-the-art building will be dedicated to high quality teaching and learning for T-Level qualifications – two-year courses which deliver the equivalent to three A levels, and are a mixture of classroom and workplace learning.
It will provide cutting edge facilities and high-quality, flexible teaching and learning spaces to specifically meet the needs of T-Levels, as well as creating a prominent, contemporary 'gateway' to the College's campus on Epinal Way.
Jo Maher, Principal & CEO at Loughborough College, said: "It is fantastic to see the new building taking shape so we are able to deliver T-Levels in a state-of-the-art, modern building.
"Our aim is to create an environment which inspires and enhances the career aspirations of people in the community we serve and to also create an exciting and modern gateway to our campus from Epinal Way.
"T-Levels are an exciting addition to our provision which will boost the future prospects of our learners, meet the skills needed by employers and support the local and regional economies."
T-Levels have been developed in collaboration with employers and businesses so that course content meets the needs of industry and prepares students for work, further training or study.
They will offer students a mixture of classroom learning and 'on-the-job' experience during an industry placement of at least 315 hours (approximately 45 days).
Stuart Lindeman, Loughborough College's Chair of Governors, said: "The progress of our new centre is tremendous to see and we cannot wait until it is buzzing with learners enjoying this stunning new facility.
"It is such an exciting time for Loughborough College as we continue to invest in an ambitious estates strategy which will enhance the quality of learning and the overall College experience for our students."
The College aims to complete construction this summer and will begin delivering T-Levels from the building in September 2022. It will focus on four areas - digital, construction, health and science and education and childcare.
Jane Hunt, Loughborough MP, said: "The opening of the new T-Level Centre will ensure that Loughborough College can build on its reputation of delivering high-quality teaching and that meets the needs of local employers.
"It is hugely exciting to see the Centre taking shape and I am looking forward to seeing the first students coming through the doors later this year. I'd like to thank everyone at the College for all they've done to ensure that this vision is turned into a reality."
Steve Davies, Chief Executive Officer of Novus Property Solutions, contractors for the Centre, said: "Novus has earned a strong reputation for delivering outstanding projects within the Education sector. We are delighted to be working with Principal Jo Maher and her team at Loughborough College to provide a state-of-the-art environment that enhances the student experience and provides a first-class facility in this exciting new era."