Posted: 17th May 2023 - 6:54pm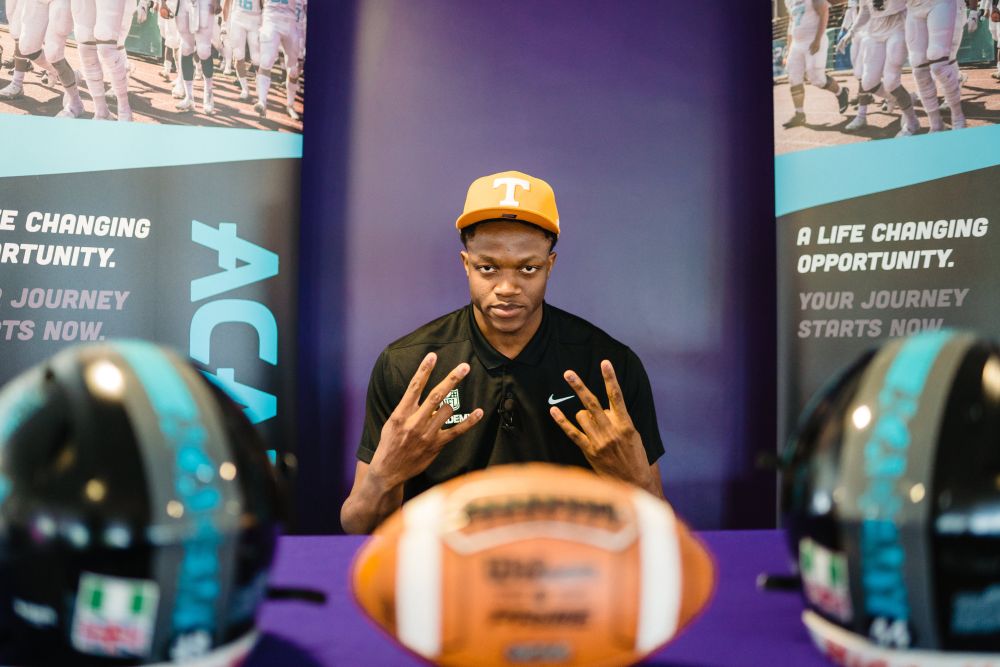 With over a dozen offers, NFL Academy defensive end, Emmanuel Okoye has become the latest in a long line of NFL Academy success stories. Announced this afternoon, Loughborough College student Emmanuel committed to the University of Tennessee Volunteers squad after joining the elite NFL Academy programme last year.
The NFL Academy, an elite player pathway programme, based at the world-renowned centre for sporting excellence in Loughborough, aims to use American Football to create life-changing opportunities for young people around the world, offering students the chance to combine education and life skills with intensive sporting training. The NFL Academy aims to create pathways for further education and employment with the opportunity to study and play in the USA.
Loughborough College Principal and CEO, Jo Maher said, "Emmanuel will be the first of many to kickstart this programme to achieve global excellence,"
Speaking with the BBC, Jo continued, "We pride ourselves on our sporting excellence and the NFL Academy dual career pathway ensures our athletes have lifelong careers.
"We're so proud of Emmanuel, and it's important to amplify him on the global stage to show America that some of the world's best talent is here in Loughborough."
Emmanuel represented the NFL Academy in three exciting games, on both special teams and as a defensive end against IMG, Scotland U19s, and the University of Nottingham. During his time with the NFL Academy, Emmanuel jumped a 45' 5" vertical, and a 11' 3" broad jump, which would be NFL records for a defensive end.
Reflecting on his time in Loughborough, Emmanuel said, "Being at the NFL Academy is something I will never forget. This is where I built my foundation and developed as a person. There are some great people here who have supported me and I am so grateful,"
Born and raised in Lagos, Nigeria, Emmanuel has been a keen sportsman since his childhood, and his natural athleticism caught the attention of NFL legend and two-time Superbowl champion Osi Umenyiora. Selected for the NFL expansion into Africa in Ghana, Emmanuel's gift for the game was evident, and his impressive performance earned him a spot at the NFL Academy.
"I'm happy for him," Osi said. "The NFL Academy gave him this opportunity, in this incredible place with incredible sporting facilities.
"I remember the first video I saw of Emmanuel, and now he's here. I'm really excited for Emmanuel and all the players that follow him. He won't be the last one, and Loughborough will have the opportunity to see the next generation of American Football stars,"
Sharing just why the NFL Academy, Loughborough College and Loughborough University's partnership is so effective, Osi continued, "Academics and education are so important. The fact that these players have a first-class education is the most important thing to take them to the next level outside of the game."
Emmanuel caught the eye of dozens of colleges and universities from across the States, receiving a flood of exciting offers from Division I teams, the highest level of intercollegiate athletics in the USA. Emmanuel embarked on a series of official visits earlier this spring before deciding to commit to the University of Tennessee's Volunteers, based in Knoxville, Tennessee.
Emmanuel's announcement highlights the continued success of the NFL Academy which has supported over 40 students in securing college football scholarships in America. Following the move to Loughborough in 2022, the partnership has already created opportunities for 15 current NFL Academy players to join NCAA football in the 2023-24 academic year.
We wish Emmanuel every success as he embarks on his journey to play Division I American Football at the University of Tennessee.