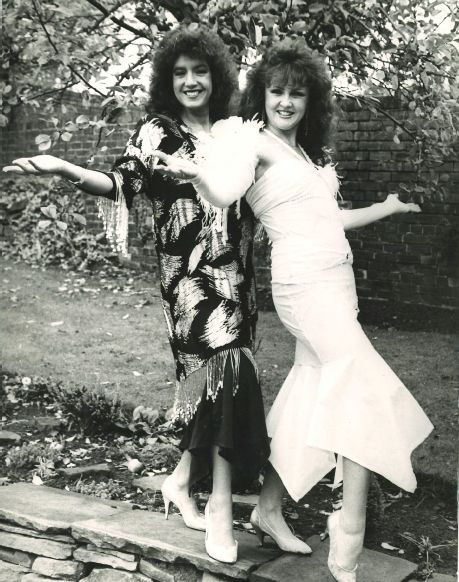 A Loughborough College creative arts lecturer who helped launch the career of singer Jane McDonald is set to appear in a new documentary with the TV star.
Vicki Calvert-Gooch spent nearly five years as a cruise ship singer and head of the onboard production company which first recruited Jane to the entertainment crew.
They shared a cabin for four months during a stint at sea and became firm friends. Now, they are to be reunited as part of a Channel 5 documentary called Jane McDonald's Yorkshire which will be aired on 22nd January 2022.
Vicki said: "We met up in Shelley near Wakefield as part of the documentary filming and talked about where we grew up, how we met and those early days on the ships.
"We've been friends for years and when we first got together I remember us rehearsing at my parents' house. We later shared a cabin for four months so we got to know each other very well!
"I used to teach her tips and techniques to make the most of her brilliant voice and it's been amazing to see her career sail the way it has."
Vicki said one of her highlights of their time as cruise ship entertainers was when they managed to get an invitation to a cocktail party aboard the Royal Yacht while Prince Charles and Diana were ashore.
"We somehow ended up getting a guided tour of the ship and heard inside stories about life onboard with the Royal Family," she said.
Jane first shot to TV fame on BBC docu-soap The Cruise and was more recently a popular member of the Loose Women panel before leaving the show and going on to score BAFTA-winning success with her much loved Channel 5 show Cruising With Jane McDonald.
In her new series, Jane tours Yorkshire to showcase its vibrant towns and cities as well as the county's stunning countryside.
Vicki has worked in TV, radio, recording, theatre, cabaret, character voiceovers, commercial jingles and worked with some of the biggest names in the UK's showbiz family including Russ Abbott, Paul Daniels, Frank Carson, Jimmy Cricket and many, many more.
Her cruise ship career took her around the world – including seasons in the likes of Alaska, Mexico, Bermuda and New York.
Vicki said: "I gave up travelling to get married and have a family and I continued to sing in the UK until joining Loughborough College in 2008. I only sing occasionally for special events but sang to my own community during the recent lockdowns, winning a community award with my son."