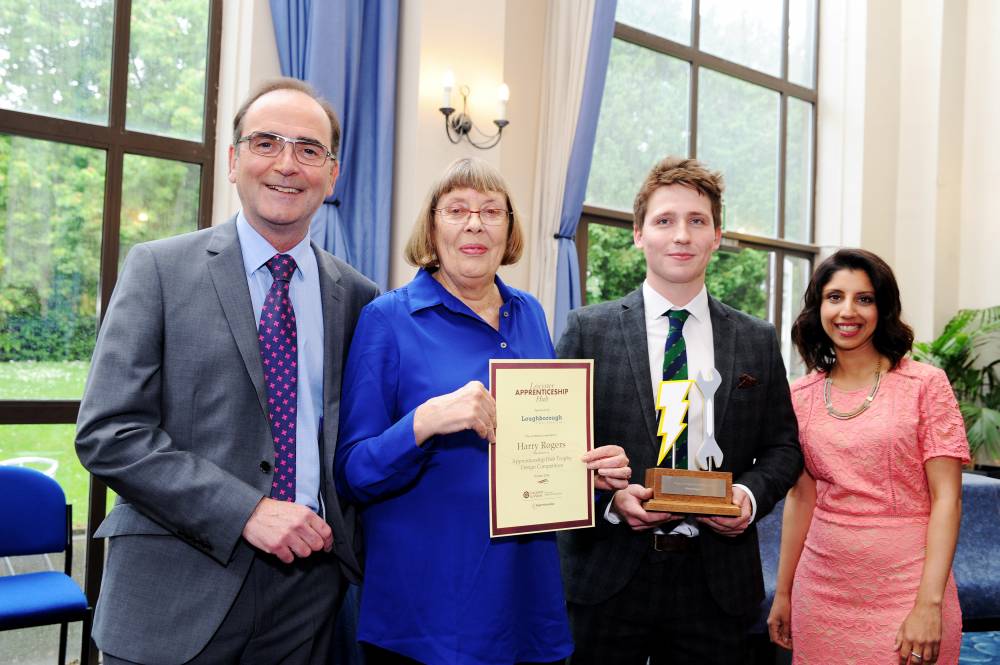 Apprentices from Loughborough College joined a special graduation in De Montfort Hall to celebrate their success in business and industry.
The Leicester Apprentice Graduation Ceremony 2016 was hosted by BBC East Midlands Today's Dominic Heale and Geeta Pendse on behalf of Leicester City Council's Apprenticeship Hub and included awards for employers and apprentices – with the trophies created from a winning design by Harry Rogers, who studies engineering at Loughborough College.
College apprentices Cherish Coster from Loughborough University Medical Centre and Mollie Belton from CPS Interiors Limited graduated in the Business, administration and law category alongside Lauren Comery-Lang, from Ashmount School, as part of Education and training apprenticeships.
Each graduate took to the stage to be personally congratulated by Lady Gretton, Lord-Lieutenant for Leicestershire and Sue Waddington, Assistant City Mayor for Leicester, watched by family and friends together with more than 200 businesses supporting apprentices in the region.
The work of Loughborough College students featured amongst a range of music, 3D design, textiles design and film-making presentations throughout the ceremony.
A competition to design the trophy in National Apprenticeship Week in March, judged by Cllr Waddington and Loughborough College's Karen Murphy Ryan, declared Harry Rogers the winner. The Engineering student is an apprentice with ERIKS UK.
Coun Waddington said: "The future economic prosperity of the city depends upon us having a skilled workforce, and new, quality apprenticeships are making a real contribution to up-skilling Leicester's labour force."
Tracey Waterfield, Apprentice Hub Manager added: "The event really enables us to demonstrate to employers the value of skills delivered through employing apprentices."
Pictured: Winner of the Leicester Apprenticeship Hub trophy competition Harry Rogers, ERIKS UK apprentice studying with Loughborough College with BBC East Midlands Today's Dominic Heale and Geeta Pendse and Assistant City Mayor Cllr Sue Waddinton (Beth Walsh Photography)