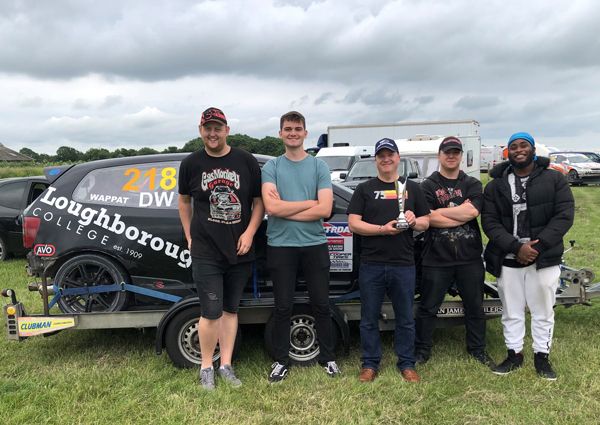 Year Two Motorsport students at Loughborough College raced to third in class in the 2021 BTRDA Clubman's British Rallycross Championship to bring home their second piece of silverware of the racing season.
The seven-strong team of staff and students, from the College's BTEC Level Three Extended Diploma in Vehicle Technology (Motorsport), worked together to set up the pit area and take to the track at Blyton Park race track in Lincolnshire on 26th June. 
The team competed in three heats of four sprint laps, with the best two times determining which of three finals they would qualify for and who is crowned overall winner.
After a series of close fought races, the Loughborough College Motorsports Team finished third in the B Final and third in class overall, earning the team its second piece of silverware in five race meetings since the motorsport programme started, a fantastic achievement.
The team was made up of students Reiyn Simon, Isaac Mitcheson, Kaelin Thompson & Damian Darrington joined Motorsport lecturer Alex Fletcher and Curriculum Manager David Wappat (along with support from Lecturer Gary Cook racing his own super-modified class car).
David said: "The event was a great success and our students loved the experience of racing under real pressure, using the skills they have learned on the Motorsport programme at Loughborough College to ensure that the car remained competitive and safe to race over the event weekend. 
"We couldn't be more proud of how they have developed over the past two years. We now turn our attention to Pembrey in Wales in August for rounds three and four of the British Championship."
You can catch the team in action on Freesports (Satellite and Freeview) and Motorsport.tv (internet channel).
Thank you to Anthony Mitchell from AMM-Photography who has kindly supported us with the photographs this year.
To find out more about motorsport at Loughborough College, visit: https://www.loucoll.ac.uk/courses/btec-level-3-extended-diploma-in-vehicle-technology-motorsports