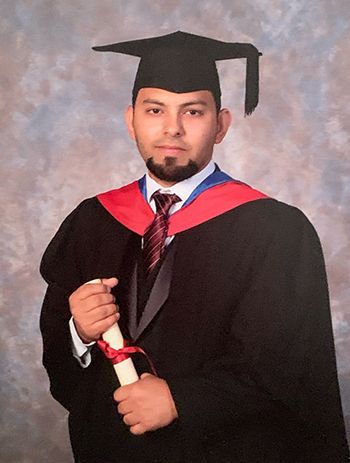 Yasir Sayedul-Abrar was a late applicant to Loughborough College, joining his engineering peers two weeks after the start of the course.
But five years later, and the 28-year-old who lives in Leicester is motoring and set to complete his engineering dream with a place to study a masters in Advanced Manufacturing and Management at Loughborough University.
Yasir's College journey started in 2015 when he applied for the BTEC Level 3 extended diploma in Engineering after the academic year had begun.
"I remember praying I would be accepted. When I got the decision that I was allowed to enrol, I got my lanyard on the same day and I was over the moon," he said.
With family abroad, Yasir studied full-time while living and working in Leicester.
"I would wake up at 6am and then travel through rush hour to college, then finish at 4 and start work at 5pm. I then wouldn't get home until 10pm and then I could do some studying."
After two years of study, Yasir was determined to further his education, but the need to earn money meant university wasn't a full-time option.
"My father said if you don't have an education then you don't have an identity. I didn't know where I was headed but I couldn't commit to full time education so the HND (in Mechanical Engineering) allowed me to study and earn.
"The teachers were absolutely fantastic. I had no family but I had Loughborough College there to be my family and support me."
Completing his HND, Yasir finished his time at the College with a BSc top up in Mechanical Engineering. The First Class honours degree he achieved during the course was not his only accolade, as he was also crowned the course's student of the year in 2019.
Now 28, Yasir is furthering his ambitions to work as an engineer, and has secured an unconditional offer for neighbouring and prestigious Loughborough University.
"I am still looking for a job as a graduate engineer and don't want to forget what I wanted to be in the first place, and now I have my offer.
"I've gone from level three to six with the College and now I'm doing level 7; I've had the same goal as others but there have been so many routes to get there."