When you enrol, you can become a member of Loughborough Students' Union. Located just across the road, on the University campus, LSU gives students access to a huge range of rewarding activities and societies. The union takes it's membership from both Loughborough College and Loughborough University. It also provides support with student welfare, advice and information.
The LSU building provides easy access to a range of facilities including a coffee bar, shop, restaurant, hairdresser, pub and optician. It is also home to a 4,000 capacity nightclub which hosts events throughout the week.
Owned and managed by its members, LSU has been developed by students, for students. Find something that you love and get involved!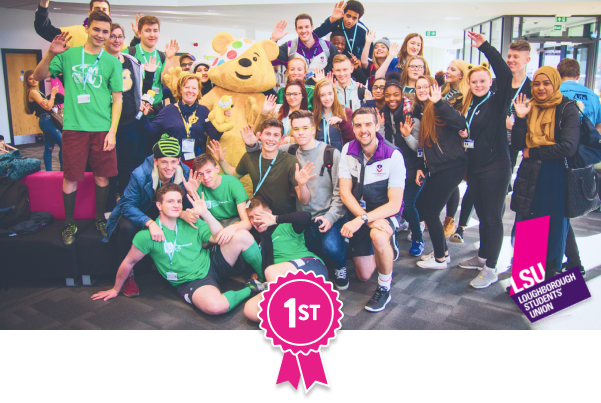 FOR STUDENT EXPERIENCE
DID YOU KNOW?
LSU is one of the biggest students' unions in the country and is frequently voted #1 for student experience.
SOCIETIES
Whatever you're into, LSU has a society for you. There are nearly 100 to choose from, ranging from art and music to off road driving and gliding, and if you think there's one missing, you can set it up and chair your own club!
RAG
Take part in some of the most challenging and rewarding projects in the world, from skydiving to sledding across the Arctic Circle, raising over millions for local, national and international causes.
MEDIA
LSU's multi-million-pound media centre gives you the chance to get hands on with student media and journalism. You'll have plenty of opportunities to build your portfolio and gain experience while working for our award winning TV station, 24/7 radio station, magazine, and photography studio.
ACTION
Action is a fantastic way to maximise your college experience and enhance your CV with rewarding volunteer work. Throughout the academic year, students can participate in over 50 projects including working with young people, the elderly and disabled, as well as aiding overseas communities in places such as Romania, Nepal, Thailand and Uganda.
WELFARE & DIVERSITY
Welfare & Diversity is a section which encompasses all students during their College experience. From promoting positive health and wellbeing to providing underrepresented students with a voice, the Welfare & Diversity section of LSU is here for you.
Welfare focuses on the general wellbeing of all students at Loughborough. Throughout your time here you may encounter a problem; anything from homesickness and stress to issues with accommodation or finances. Alongside the Exec at LSU, and staff members across all student services on campus, we work to ensure your time here is the best it possibly can be.In addition to this, Diversity focuses on supporting and empowering diverse and underrepresented students groups; ensuring that they have a voice within the LSU and the College. Whether you're an international student, an LGBT+ student, or a disabled student, we're here to support you.
INTERNATIONAL STUDENTS
Events and activities for both home and international students happen throughout the year, so keep an eye on the Global DO Facebook page or Twitter account to make sure you don't miss out! If you have any questions, please feel free to email globaldo@lsu.co.uk or visit the office upstairs in the Union building.
ATHLETICS UNION
The Athletic Union has over 60 student-run clubs and boasts a total membership in excess of 4,000. It's a great way to meet other sports enthusiasts and develop skills both on and off the field. To find out more, visit lsu.co.uk/athleticunion