Welcome to LSU!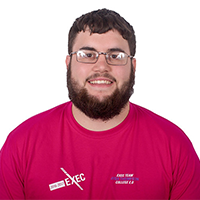 Hi, I'm Josh Thompson, your College E.O. 2015/16
As College Executive officer it is my Job to work closely with the staff at Loughborough college and the Exec team to deliver as better student experience, specifically to improve the student experience for the college students. Aiming to increase College student engagement in all areas of LSU, by organising events such as volunteering projects with action, or charity collections through RAG, alongside promoting the other sections of LSU such our vast range of societies, LSU media and our welfare and diversity section.
As College E.O. its is also my role to develop student voice through the course rep programme and the through organising events such as forums where students can voice and problems or issues they may be having.
Want to find out about the LSU Elections and have your vote?
Your LSU
LSU gives all students the opportunity to get stuck in with over 100 different clubs and societies. Getting involved can be a lot of fun and is a great way to enhance your overall experience.
Owned and managed by its members, our union has been developed by students, for students. Whenever decisions are being made that affect you, especially about your education, the union are always on your side, influencing the right people in the right way.
Make sure you attend the Freshers' Fair to find out more about the clubs and activities on offer or visit www.lsu.co.uk
Volunteer with Action
Action is the volunteering section of the Students' Union. It's there to provide you with opportunities to engage with the local community, meet new people, learn new skills, and have fun in the process. We run over 35 projects, meaning there's something for everyone; whether that's helping at the local soup kitchen or volunteering in Mexico! We also run a number of one-off projects at the College each term, as well as our annual College Food Drive.
Get involved: you'll feel good in yourself and make someone else's day. What could be better?
Welfare & Diversity
Welfare & Diversity is a section which encompasses all students during their College experience. From promoting positive health and wellbeing to providing underrepresented students with a voice, the Welfare & Diversity section of LSU is here for you.
Welfare focuses on the general wellbeing of all students at Loughborough. Throughout your time here you may encounter a problem; anything from homesickness and stress to issues with accommodation or finances. Alongside the Exec at LSU, and staff members across all student services on campus, we work to ensure your time here is the best it possibly can be.
In addition to this, Diversity focuses on supporting and empowering diverse and underrepresented students groups; ensuring that they have a voice within the LSU and the College. Whether you're an international student, an LGBT+ student, or a disabled student, we're here to support you.
International students
LSU's Global Development Officer ensures that all international students are welcomed, supported, and represented by the Union. Events and activities for both home and international students happen throughout the year, so keep an eye on the Global DO Facebook page or Twitter account (see below) to make sure you don't miss out!
If you have any questions, please feel free to email globaldo@lsu.co.uk or visit the office upstairs in the Union building.
Societies
Here at the Union we have a fantastic range of societies to choose from. They're divided into four sections: Performance and Arts, Culture and Faith, Outdoor and Sports, and General Interest. So, whatever your interests, LSU has a society for you. Joining a society is a great opportunity to take part in engaging and challenging experiences outside the classroom.
If there's something you're passionate about and we don't have it, set up a society and be the chair of your own club.
Media
LSU Media is the student-run journalism and broadcasting section of Loughborough Students' Union. It's made up of four sections: Label, LCR, Lens, and LSUTV.
Label is the magazine. There's a paper issue that is released seven times a year, in addition to articles that are added daily to the LSU Media website.
LCR is the radio station. It broadcasts 24/7 on the Media website from two industry-standard studios within the Media Centre.
Lens is the photography section. Its photos are posted on the LSU Media Facebook page and used to support the content of other sections.
LSUTV is the TV station. Its content on the Media website varies from short promotional videos right up to two-hour, multi-location live broadcasts.
Every section is run by a committee, entirely made up of students, who decide on content and make sure every LSU Media volunteer is given as many opportunities as possible. For just a £20 fee, you can become a member, which entitles you to use tens of thousands of pounds worth of equipment and all of our training opportunities.
Athletic Union
The Athletic Union has over 50 student-run clubs and boasts a total membership in excess of 4,000. It's a great way to meet other sports enthusiasts and develop skills both on and off the field. To find out more, visit www.loughboroughsport.com/athletic-union
Your LSU Exec
Find out more about the Loughborough Students Union and Exec.