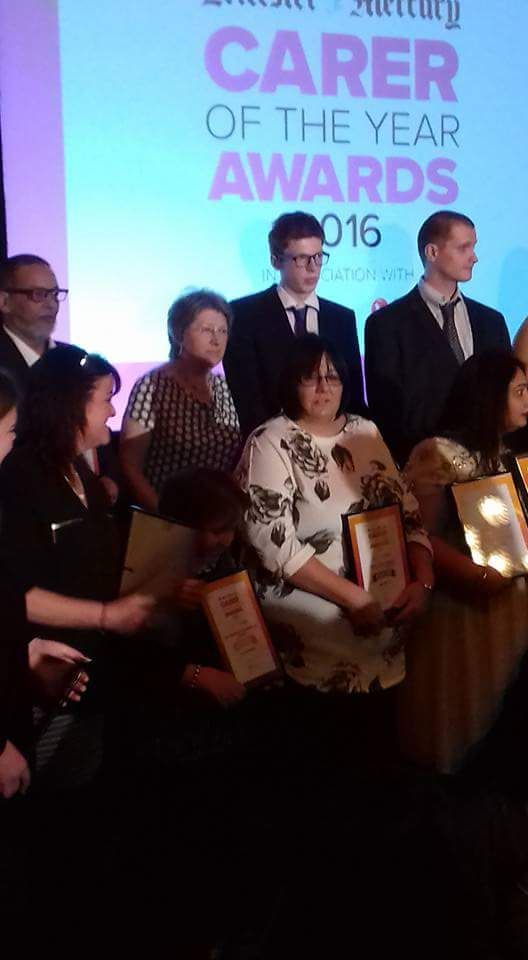 Loughborough College apprentice Ashley Reid has been named winner at the prestigious annual Carer of the Year Awards.
Ashley joined finalists, including fellow College apprentice Lisa Morris, at the glittering ceremony before being presented with top accolade Carer of the Year.
"When they called my name I was overwhelmed with so many emotions – shock, happiness, gratitude. I couldn't quite believe it as I made my way onto the stage.
"I felt so happy just to be nominated, to think someone felt I deserved that. Then I was thrilled to be told I was a finalist but to win and to be able to share it with my family and colleagues who were there with me, it was incredible," said 16 year old Ashley, who works as a Care Assistant at Quarry Hill Grange residential home in Mountsorrel.
"It was back to work as usual afterwards but all the residents were congratulating me – and the staff thanked me again for all my work and said I was an inspiration. The whole thing has been fantastic."
'"Ashley's win at the Leicester Mercury Carer of the Year Awards is certainly deserved," said Sarah Hall, Service Industries Work Related Learning Coordinator at Loughborough College.
"Every single day he is making a difference to the lives of the residents. He has a great passion for the care sector and it is an honour to be supporting him to achieve the qualifications that will enable him to progress further."
Ashley was nominated by his manager and the owner of Quarry Hill, Saida Mawna. He began working at the residential home as a volunteer two years ago and enjoyed it so much he jumped at the offer of an apprenticeship, joining Loughborough College to begin his studies last summer.
"I didn't get on well at school but being at the College is so different. Everyone is really helpful and I am well on the way to my first qualification. The support I am getting is making learning an entirely different experience for me, I want to do it. And what's more I want to carry on getting qualifications. My ambition is to make Team Leader, then Deputy Manager and hopefully, eventually, get the top job.
"When I walked through the door at Quarry Hill Grange for the first time two years ago, I never imagined I would enjoy being there as much as I do. I just helped out in the kitchens at first but then I moved onto being with the residents and I have such a laugh with them all, whether I am caring for them, sharing activities or on a day trip to Skegness.
"Now I've been made a Dignity and Care Champion. There are only three including me and the other two are the manager and the deputy manager. It involves supervising all the staff and making sure they follow our guidelines on taking time and being respectful and I feel very proud to have that role.
"It would be brilliant to manage a care home one day but for now I find what I am doing so fulfilling. All these people have cared for others through their lives and it is only right that we do all we can to care for them."
Pictured: (back row centre) Loughborough College apprentice Ashley Reid with fellow finalists at the Carer of the Year Awards where he was named Young Carer of the Year