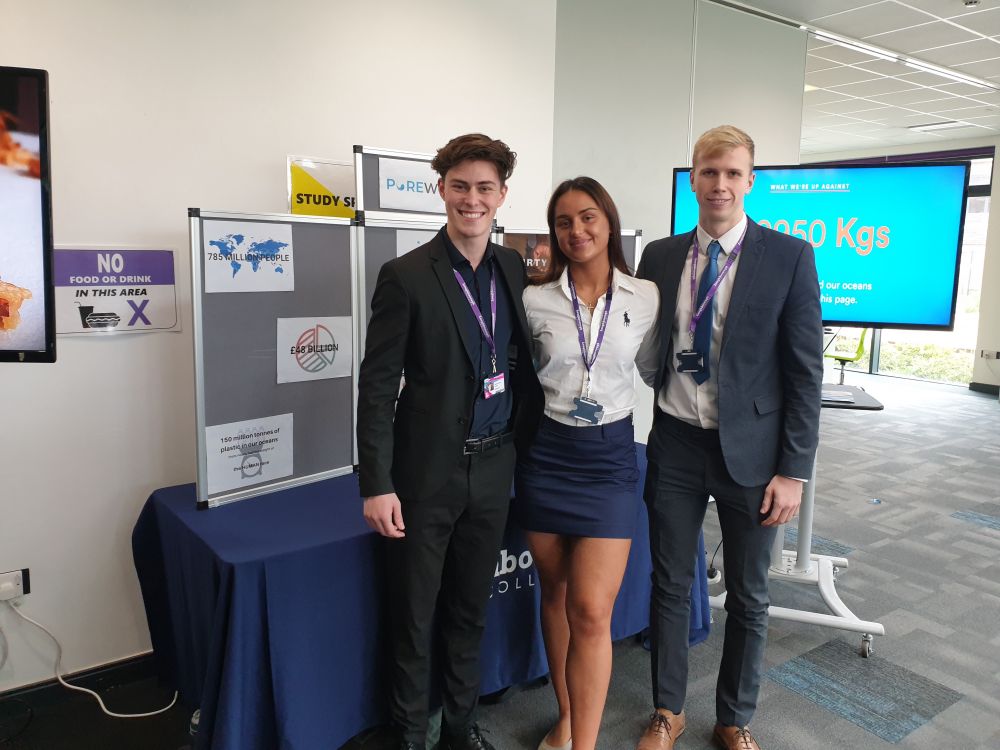 A business created by three Loughborough College students has been named Young Enterprise Start-Up Company of the Year 2020. The stunning win in the highly-competitive national finals was doubly deserved as the team had to revamp their presentation with only days to spare when lockdown forced the competition to become a virtual event.
Now PureWorld – the company created by Ana-Maria Damjanovska, Daniel Jennings and James McFadzen – will represent the UK at the European finals which was due to take place in Athens later in June, but has now been revamped to a digital format.  The new format will include a live pitch and interview by video link, a short video commercial, and the business proposal.
Judges were hugely impressed by PureWorld's entrepreneurship and innovation.  Their product AguaVitae – a bottle for easily purifying polluted water -- will be a great benefit to communities in the developing world.
As the finals moved from a face-to-face competition to a virtual one, the three students had to scrap plans for a trade stand they had created to help sell their product.  With a tight deadline, they needed to redesign their entire proposal into just 15 pages of information.  But Ana-Maria, Daniel and James rose to the challenge and the judges rewarded their efforts with an award for marketing excellence as well as the overall trophy.
The three team-mates are all studying for the BSc (Hons) in Applied Sport Science with Management at Loughborough College.  James is 21 and Ana-Maria and Daniel are 20.
"We wanted to come up with a big idea and it was Ana-Marie who suggested doing something with water.  We'd read about communities in the developing world where people had to walk miles for their drinking water, only to find the well polluted with toxic metals or bacteria.  That gave us the idea for a ten-litre bottle which could purify the contents into drinking water," Daniel said.
"We set high standards for ourselves.  We wanted something that was incredibly easy to use, but could clean the water of all pollutants, bacteria, viruses, all pathogens, and we wanted to construct it out of recyclable material.  We went to a water treatment specialist Andrew Perkins who we found through the Rotary Club and he advised us on the technical challenges.  James Tyler was our mentor on the business side and he gave us all the guidance we needed to get our company up and running.
"The biggest help came from the head of our course, Iqbal Ullah.  He was just fantastic support, above and beyond what you'd expect from a teacher.  We wouldn't be here without him."
The process was rigorous from the start, but the team was always confident and always working hard.  But after the switch to a virtual event right up to the day of the finals, nerves set in.
"After we'd submitted our pitchdeck, we were extremely nervous," Daniel admitted.  "We wanted all that hard work to pay off.  But when Iqbal called me about the result, it was amazing.  We were so relieved.  But we didn't get the chance for a celebration – not even a virtual one.  We were right in the middle of our exams and there were so many other pressures.
"But we're really excited to represent the UK at the European finals.  It's a three-day event from June 24 with 18 countries involved.  In the short term we're preparing for that.  In the long-term we hope to make a working prototype and launch the product.  We're already talking to investors."
Iqbal Ullah, who heads the Foundation Degree in Business Management at Loughborough College said: "PureWorld should be congratulated on a great victory against really stiff competition.  Some of the feedback from the judges was really uplifting, and it was great that they were recognized for their excellent marketing.
"My only disappointment was that they couldn't have the full experience of the usual face-to-face final, where they would have had to stand up in front of the judges and fight for their idea.
"But they adapted really well to the switch to the virtual final.  There were lots of online meetings as they restructured their information before they submitted it, but it all paid off.
"Ana-Maria, Daniel and James were very clear about the challenges being tackled.  Their messaging was concise and clear and they had excellent levels of analysis.  Overall, their project has a really good opportunity for traction.
"The Young Enterprise Start Up programme is a fantastic example of how entrepreneurship and innovation is being developed across higher and further education.  This is supported in a connected way across all areas of Loughborough College and we are immensely proud to have been part of the event this year and come away as winners."