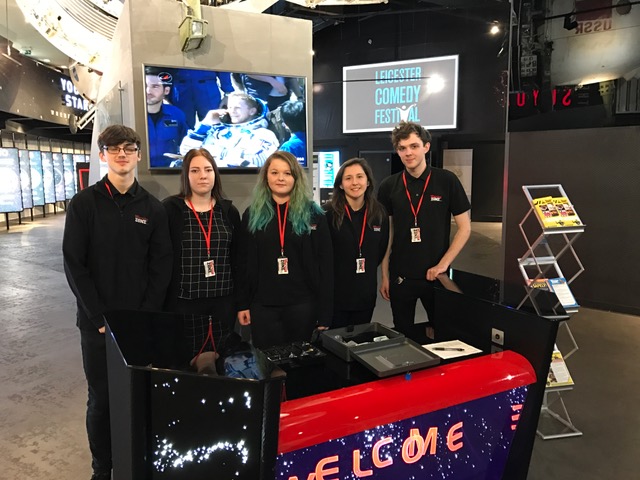 Loughborough College volunteers arrived at the Leicester Comedy Festival launch this week to show their support for a centre which helps young people stay safe.
Shannon Husband, Veronica Grimley, Connor Coleman, Lauren Bailey and Lawrence Clarke joined the event at the National Space Centre on behalf of Warning Zone.
The Loughborough College Public Services students work on a voluntary basis with the centre, helping children understand the risks and consequences around issues including cyber bullying, grooming, anti social behaviour and peer pressure.
Fellow student Soraia Mocas recently marked 100 hours of volunteering with Warning Zone.
"It is fantastic that these students even gone beyond their usual volunteering to help support such a worthwhile cause," said Stephen Bowen, Senior Employment Broker at Loughborough College.
"I am regularly told by Warning Zone that Shannon, Veronica, Lauren, Conor and Lawrence are a real credit to Loughborough College with their hard work and dedication with school pupils from across Leicestershire, Nottinghamshire, Derbyshire and Lincolnshire.
"It's great seeing these students develop and grow in the employability sessions I deliver in college and to see them put their growing skills to work at the Leicester Comedy Festival launch."