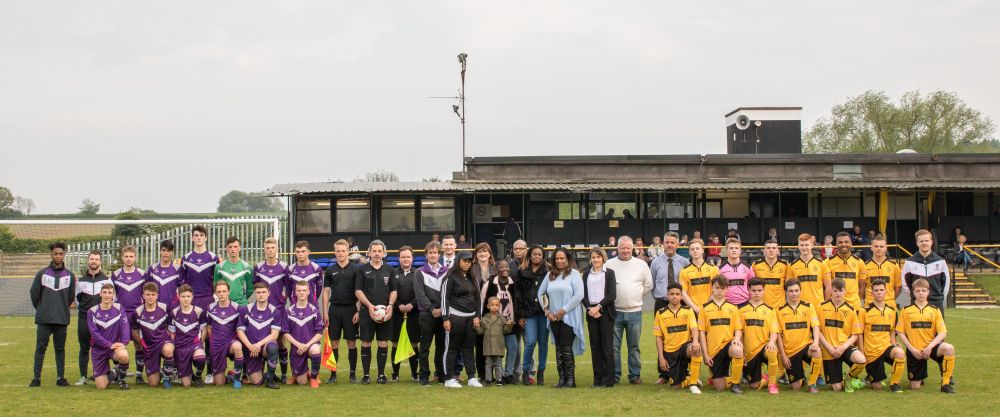 A brand new partnership between Loughborough College and Dynamo FC is set to usher in a new era of high performance football.
An official launch this week at Dynamo's Nanpantan ground marked the College's link with the semi-professional club and was supported by Conservative candidate for Loughborough Nicky Morgan, with proceeds from the event going to charity AAA 4 Success. The evening included a friendly fixture featuring both next year's senior as well as new players on the men's programme.
"Loughborough College is thrilled to establish this partnership with Loughborough Dynamo FC. The link will offer a great boost to player progression. College students Jack Bewley and Pietro Maria Caimi – a former player for professional Italian club Pisa CF – have already both made their semi-professional debuts for the club, even before the partnership was made official," said Rob Jarram, Sport Development Manager at Loughborough College.
"Our College players and coaches can also support the club with the development of players in their system and with talent identification.
"There really are a wealth of opportunities, not only for footballers to advance within the game but also for the club to improve the standard of young players appearing as part of the first team.
"In addition, the partnership will enable the men's and women's teams to have a fantastic football facility for College home games, offering increased exposure in the world football - particularly welcome as both teams will be playing in two of college football's highest leagues next season. And the College will be supporting the club with the use of our 3G pitch on weekday evenings for their senior and junior teams.
"This partnership is elevating the professionalism of our whole high performance programme and we are all very excited to see how together we will continue to build on its success."
Darren Rodgers, who has been involved with the club for five years and a director at Loughborough Dynamo for three, is equally excited by the potential benefits of the partnership.
In addition to the College students who have debuted for the side, Loughborough College Football Academy Head Coach Jay Groocock is assistant manager at Dynamo, at 24 the youngest in the league.
"Having Jay come on board has been of massive benefit to the club and now we have this partnership with Loughborough College, which has an outstanding reputation for education and sport – it's a dream come true for me.
"We have 26 junior teams with connections to the club and this presents a wonderful progression opportunity for them, plus we can pick players from the College who really help the team.
"I know our partnership with Loughborough College will help give us a team we can increasingly be proud of – we might even get to the Conference."
Charity AAA 4 Success was set up in honour of Antoin Akpom, a young football coach from Leicester who died four years ago – who was at school with Jay Groocock. Antoin's four year old son led out the team captains at the match.
The community charity was established by Antoin to support young people in developing themselves through education and in areas including sport and Antoin's mother Cheryl Armatrading now continues the legacy as its managing director.
Pictured: Loughborough College and Loughborough Dynamo FC officially launch their partnership (Photo: Stuart Carroll)