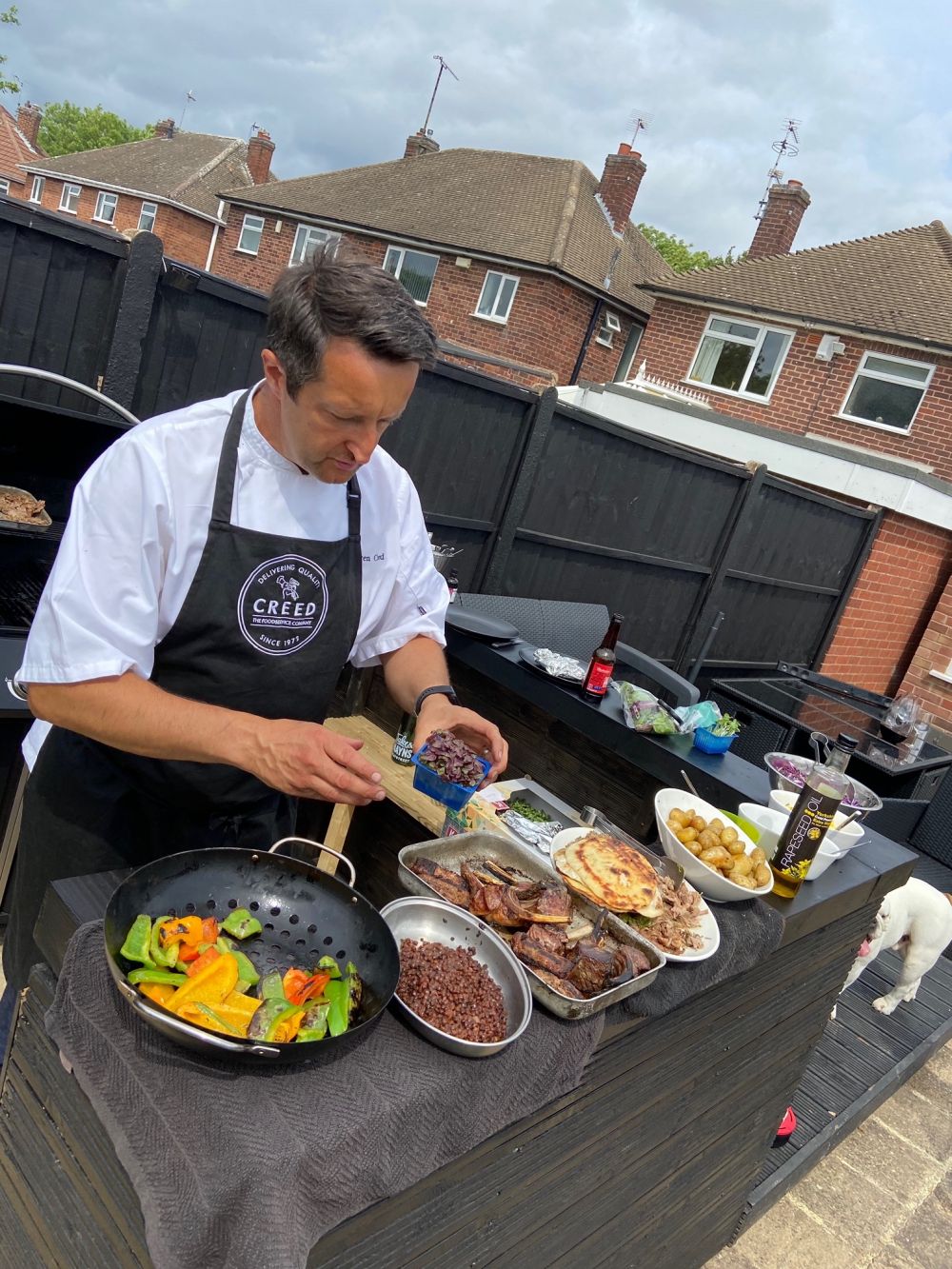 Loughborough College chef Darren Creed joined a star-studded line-up for the Northern Food and Drink virtual festival.
The three-day fundraising event featured more than 200 leading industry names and local producers and saw the College hospitality lead compere an appearance from Master Chef: The Professionals' Exose Grant Lopo-Ndinga, a chef at James Martin in Manchester, as well as deliver his own cooking demo – live from his garden.
"My job is demonstrating to students every day and it was very different to do it live from my garden for a huge online audience. My students were commenting, 'It's nice to see you under pressure for a change!' But I absolutely loved every minute.
"It was great for our students to visit the festival throughout the weekend and watch top chefs creating such a range of dishes and chatting about the industry. It really broadened their horizons.
"What's more, I've made so many connections with chefs who have offered to give demos for our students, to give them work experience and to join us at our Loughborough College Radmoor Restaurant for our ever-popular guest chef evenings – when our hospitality students learn and cook alongside them.
"It was an absolute honour to be asked to take part in the festival and to help raise money for Hospitality Action, an amazing charity doing great work which has been particularly needed by the industry in recent months.
"Bringing chefs, industry, producers and the public together like this is so important in these strange times. Plus, chefs were using some of the exhibitors' products, helping raise the profile of these artisan producers."
Darren's barbecue smoked pulled shoulder of pork and roasted Rack (with meat from butcher Price and Fretwell); Asian Koppert Cress slaw; mango, chilli and lime salsa; flatbreads with tzatziki dressing and Yorkshire smoked rapeseed oil Jersey Royals was inspired by outdoor cooking and family eating. "It's so important to spend time with the family eating around a table.
"Jacky Moss, Craig Sheringham and Sean Noonan put so much into organising this festival.  I loved every minute of the demonstration and would do it again, if asked, and would encourage any chef to have a go at it."