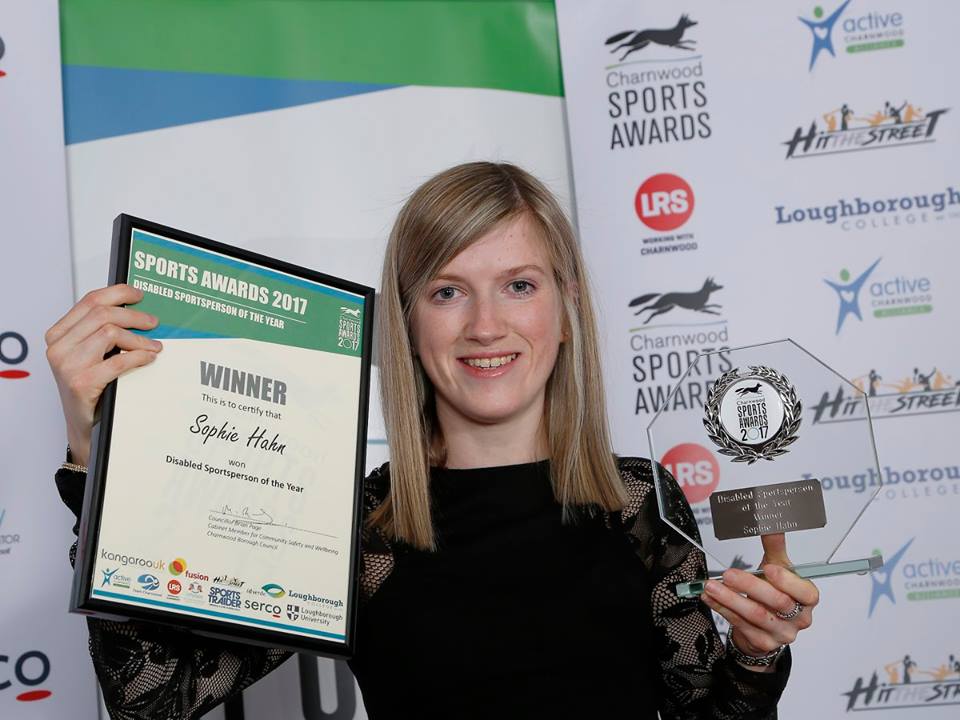 A record number of individuals and teams linked to Loughborough College joined finalists at a glittering ceremony for the 2017 Charnwood Sports Awards this week.
In line for no fewer than six accolades were a host of current students, staff and alumni including Paralympian, World Champion and Loughborough College student Sophie Hahn MBE, for Disabled Sportsperson of the year; the College's Loughborough Futsal development team, for Senior Team; Loughborough Foxes – a partner to the College's women's performance football programme – for Club of the Year; degree student James Teagle for Senior Sportsperson; alumna Izzy Perry for Outstanding Contribution to School Sport and Daniel Powell in both the Disabled Sportsperson and Senior Volunteer categories, nominated by Paralympian and College alumna Libby Clegg MBE.
Winners included Sophie Hahn, the Loughborough Futsal Development Team and Izzy Perry with James Teagle and Loughborough Foxes named runners up.
"It was great to see so many talented and dedicated people being celebrated for their achievements this year.
"Charnwood has demonstrated just how important sport and physical activity is to the community and how it can encompass a very large range of ability and age. It was a very inspiring evening," said Rob Jarram, Sport Development Manager at Loughborough College.
"The College had the largest number of nominations ever and it was great to celebrate the numerous staff and students involved in the runners up and winners categories.
"There is enormous dedication and outstanding achievements in evidence at Loughborough College as we continue to grow and develop."
Joining Rob Jarram at the ceremony and helping to present were staff and governors including Audrey Traynor, Jonathan Morgan, Steve Wilkinson and Emma Compson.
Pictured: Loughborough College student Sophie Hahn MBE is a winner at the Charnwood Sports Awards 2017