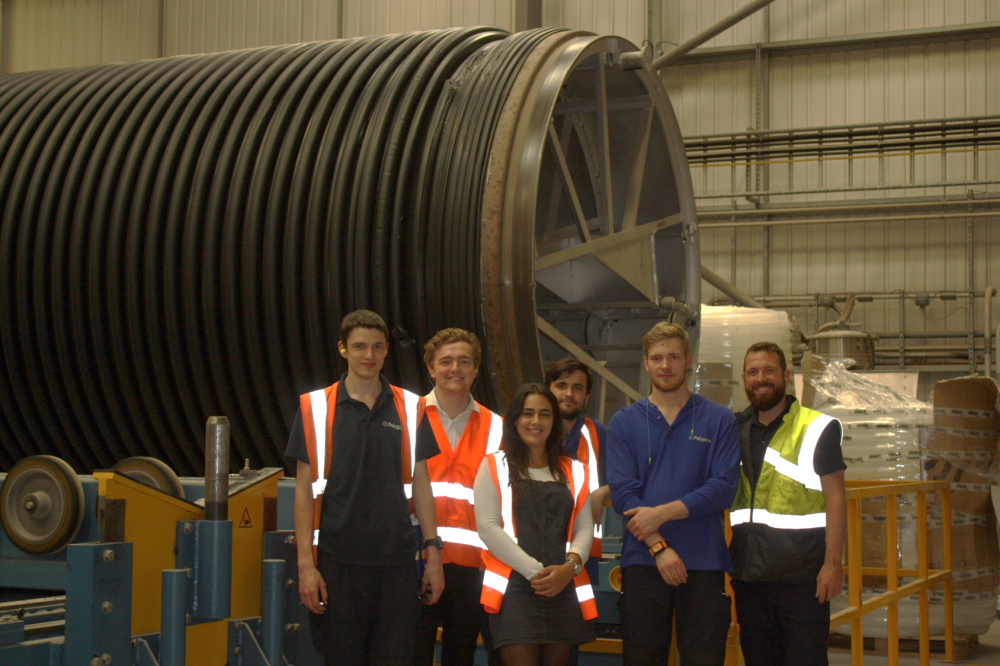 Five apprentices from Loughborough College have helped turn a major project for Polypipe into an outstanding success.
Dan Ralph, Zak Brown, Olivia Carson, Brooklyn Buckby and Rob Bell created the Ridgistorm-XL display area from scratch with products totalling more than £45,000.
All five study with Loughborough College – recently rated Outstanding for apprenticeships by education watchdog Ofsted – alongside their work at Polypipe Civils, who leads the UK market in the design, development and manufacture of thermoplastic piping systems. The group was joined by apprentice Brandon Shreeves to collaborate on the area showcasing the town company's underground capabilities above ground to visitors, customers and potential customers.
Despite the project being undertaken entirely by the group and requiring them to design, plan, schedule and manufacture – including the welding and fabrication of all the elements needed - they completed it within four weeks.
Neville Blowers, Operations Manager for Polypipe, said: "The Ridgistorm-XL display area was a fantastic opportunity for the apprentices to demonstrate their individual skills as well as their ability to work within a larger team and they delivered this unique and high profile project successfully."
Loughborough College's apprenticeship assessor John Kirton added: " This was an incredibly valuable hands on project for the apprentices. They had to draw this, cost it, assemble it and develop modifications – tackling everything you would normally encounter and resolving any issues. The way they all handled it was unbelievable – and they came in on budget producing an extremely impressive piece of work of superb quality.
"As a College we are delighted to work with Polypipe. They are totally dedicated to all their apprentices, giving them the correct training and development they need. It's a fantastic route into employment."
Dan, Zak and Brooklyn all study engineering with Loughborough College while Rob and Olivia are respectively on Laboratory Technician and Marketing courses with the College.

Pictured: (from left) Zak Brown, Brandon Shreeves, Olivia Carson, Brooklyn Buckby and Rob Bell